5 Tips for Building Your Clinic's Digital Marketing Strategy
Posted on 10 March 2021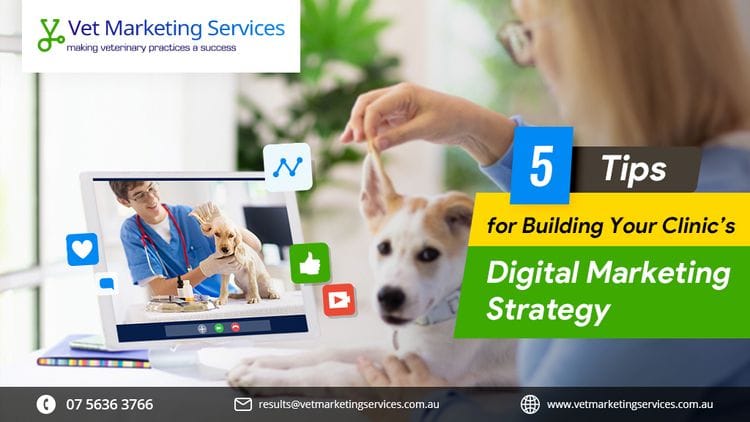 Digital marketing is a major aspect of any businesses success. With 81% of people engaging in online research before committing to a particular clinic, having an effective strategy should be a priority. With that being said, it can be difficult to know where to start.
Whether you're just getting started on your digital marketing journey or you're looking to refresh and renew an existing strategy, these tips will help you get started with a fresh approach to grow your clinic and generate more clients.

1) Review any data you already have
If you've had a long-term digital marketing strategy in place, you should have an abundance of data to review. By doing so, you can identify key areas that are working and tactics that you can scrap. This will help refine your strategy by deciding what works and what doesn't.
Alternatively, if you're developing a new strategy and have no previous data to work with, consider your client segmentations and what you do know about their purchasing behaviour and visiting frequency. This is a solid framework in which to build your first digital marketing strategy.
2) Decide what you want to achieve
Before you do anything, you have to decide what it is exactly that you want to accomplish with a new digital marketing strategy. It's advisable to take the time to set clear outlines of what you want to achieve.
To do so, map out your objectives
While you most likely have an existing objective and related goals within your clinic, mapping out specific marketing objectives will help you determine whether you're addressing them effectively and if they're also working towards your overall business goal.
For example: if your overall business goal is to "better serve your clients and their pets" then you can align your marketing goals to address this objective as well. Your marketing objectives could be to "attract more local clients" or "promote puppy school services".
Looking at what your previous data is saying will also indicate whether your objectives are achievable for where your digital marketing strategy currently is. Once those objectives are set, you can create measurable goals in-line with these ideas.
3) Review your client segmentation
If your clinic is brand new, this might not be applicable to you just yet - however, if you're leading a well established clinic who hasn't reviewed their audience segmentation in 20 years, now's the time!
As time passes, your buyer personas change, too. With this in mind, it doesn't hurt to review your audience segmentation, who your clients are, how often they visit and what pet's they're bringing in.
It's healthy to review this information regularly to make sure your current client data still validates the marketing segmentation in your strategy.
By doing so, you can save time and money marketing to people who aren't buying or aren't visiting your clinic anymore. You might even find audiences you aren't targeting heavily are purchasing more or you may discover an audience is not as active as you once thought, so you can realign your strategy to appeal to those people more.
4) Align your KPI's (Key Performance Indicators)
Once your objectives are established, you can align your goals respectively. Your goals are important but what's more important is that these goals are measurable, otherwise, how do you know you're meeting them?
For example: "increasing clients visiting the website" isn't a measurable goal. Rather, "increasing potential client traffic to the website by 15%" is a measurable goal.
Additionally, the more specific you are about your goals, the easier it'll be to decide which marketing strategies to put in place to meet them.
5) Finally, it's time to test.
Now all of the foundations are in place, take your new strategies for a test run. Your updated digital marketing strategy needs testing and as with all marketing strategies, it will no doubt evolve and change over time.
Testing is the exciting part - after the hard work and planning required to get to this point, you finally have the chance to test the waters and see what works best for you. Be sure to take note and keep a record of results and any data produced. These results are what you'll compare to your KPI's to decide whether or not you're achieving the goals you've set for your campaigns.
Key Takeaways:
Before making any changes, review your current data (if you have it) to decide what you should and shouldn't continue to implement in your strategy.
Have a clear plan regarding what you're wanting to achieve and turn these into your objectives.
Take a look at your audience segmentation and decide whether it needs revising.
Set out clear, measurable key performance indicators that align with your objectives.
Don't be afraid to test them out!
Whether you're trying out new social media channels, dabbling in paid advertising or starting a new email campaign - remember to always review your data and realign your strategy where necessary.
If you want to maximise your marketing strategy this year, feel free to reach out to one of your veterinary digital marketing specialists on (07) 5636 3766 for more information, or book a consultation today.
Author:
Vet Marketing Services
About: Vet Marketing Services launched with one goal in mind - to provide affordable yet highly effective digital marketing services to veterinary clinics. Our custom made websites and modern marketing strategies are designed with your needs and goals at the forefront, optimised for highlighting the small details that'll bring local paws through the door of your business.