How Your Vet Practice Will Benefit From Having A Blog
Posted on 19 December 2019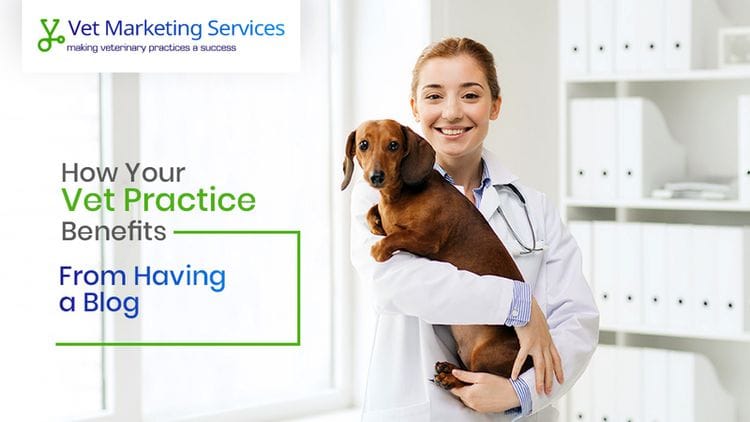 Creating a blog seems like a daunting task. As a vet practice, you already have so much on your plate. While it's easy to get started, before you know it, there's patients to be cared for and pet owners to answer to, leaving the blog behind. It's understandable; life gets in the way. However, having a blog is an essential part of any digital marketing strategy that is often overlooked, especially while running a small business. In a recent survey, 75% of internet users said they read blogs regularly, which certainly provides insight to the sizable opportunity blogging creates. When you're already invested in other marketing strategies, maybe you're wondering how a blog could possibly create more opportunities? Well, here's how:
1. Increase your website traffic
When you produce high quality content that is appropriate, informative and interesting to your audience (pet owners), visitors to your site will keep coming back for more. Businesses with blogs have witnessed previously their monthly leads increase by 126% over those who don't blog. Maybe you're wondering what could I even write about? Think about what questions you're asked by the owners of patients when they come in, maybe it's about nutrition and exercise for their pets or what services you offer, and go from there. Once you have a blog post lined up, you can then share this to your social media and email marketing which will also drive visitors to the site - additionally, this allows people to share your content further with their contacts, too. Blogs also improve your SEO ranking, making you more visible in the search engine and ultimately making it easier for new visitors to find what they're looking for on your blog.
2. Increase website engagement
Once visitors are on your website, there's now opportunity for engagement. With 70% of people preferring to learn about a company through articles rather than advertisements, it's a great place to start and lets potential clients know what you have to offer. Many people consider their pets family and it can be a scary time to think of a loved one as being unwell - when your clients are searching for a solution to their issue, having relevant and informative content on your page helps build trust with your clients and solidify your practice as being experts in the field. The more high quality, interesting content you have, the longer and more recurring visits you'll get - all of which open opportunities for conversions and sales. Blogs also allow more space for information than social media, allowing you to educate and teach something new.
3. Provides shareable content
We mentioned earlier how easy it is to lose track of your blog when you're short on time. Well, one of the greatest perks of blogs is how insanely shareable they are. In one simple copy of a URL or click on a share button, you've got your vet clinics email marketing campaign and social media campaign a new addition. Once that blog is written and posted on your website, it's not just yours for the sharing but the sharing of your followers, too. Ultimately, this will build traffic with new visitors, build your clinic's recognition in the community and the scope of your brand visibility.
4. Give your clinic personality
Think of your blog as being the voice for your clinic - when you're not face-to-face with clients, your blog speaks for you and creates personality through word, photographs and any other embedded content within your blog. We mentioned earlier using blogs to show your expertise in the veterinary industry, however, you can also have fun and be creative with a blog. Did your clinic deliver a litter of cute puppies or kittens? Write a heart-warming story with pictures on their arrival. Is there a pet who made an impressive recovery with your help? Share their story. This not only shows the extent to which you care for your patients, but further embodies your expertise in the field. Whatever it is you write about, this helps build trust and connections with your visitors and shows you're not just a website, but a veterinary clinic who cares and who they can trust with their pets. Creativity also makes for shareable and entertaining content, further driving your engagement and boosting website traffic.
Getting started with a blog can be an intimidating step to take but one that is nonetheless rewarding. There are so many benefits for your vet clinic, so it's easy to see why we think they're so important to have and maintain. Here at Vet Marketing Strategies, we have the tools and knowledge to help boost your blog. Get in touch with your local Vet Marketing Specialist today to chat with us about getting started!
Author:
Vet Marketing Services
About: Vet Marketing Services launched with one goal in mind - to provide affordable yet highly effective digital marketing services to veterinary clinics. Our custom made websites and modern marketing strategies are designed with your needs and goals at the forefront, optimised for highlighting the small details that'll bring local paws through the door of your business.