Why Marketing Should Be Your Clinic's Top Priority
Posted on 15 October 2020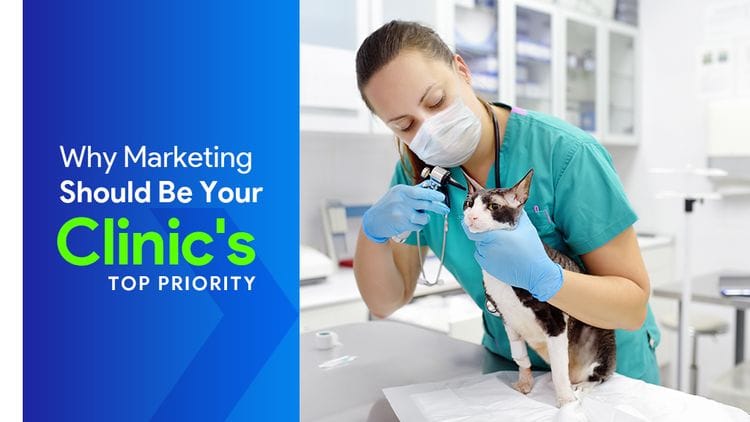 It should be enough to just be able to concentrate on being the best veterinarian you can be in order to get pets through the door.
While that still stands true, as the market has become increasingly competitive, it's no longer enough on its own.
If you aren't actively engaging with your current audience and telling your story to potential clients, there's ample competition around to lure customers in their direction instead.
Prior to coming to your clinic, what a potential customer knows and feels about you and your practice comes down to how your brand is marketed.
In order to continue doing what you do best with veterinary medicine, you have to not only sell your services but sell you - sell what makes you stand out from the competition. Show why potential customers should choose you and why current customers should keep choosing you.
If you want to maximise your marketing strategy this year, feel free to reach out to one of your veterinary digital marketing specialists on (07) 5636 3766 for more information, or book a consultation today.
Why is marketing important to veterinary clinics?
1. Helps establish trust
You want to be able to show potential clients that you're more than just a website or social media page - you want them to feel comfortable bringing their pet to you. Trust is the foundation of any relationship and your relationship with clients is no different.
There's several ways you can build trust with your marketing.
You could start with something as simple as ensuring your website has a meet the team section. Showcasing your team is a great way to introduce clients to the people they can expect to see when they visit your clinic. It adds faces to the name, personalising the brand and helps build trust; sometimes a friendly face is all that's needed to give the client the comfort they're looking for.
Over time, you can introduce "meet the team" posts on your social media. It's an easy way to add content to your pages and add trust to your marketing.
Additionally, when you create knowledgeable content and publish that through your digital channels, not only are you providing value to clients, you're showing you're an expert at what you do and that you're a good point of reference for when they're needing help. When you show your knowledge and expertise through your marketing, you're providing more symbols of trust for clients.
2. Encourages engagement
Engagement involves cultivating a two-way communication channel and relationship with your clients. Establishing this engagement isn't for the purpose of pushing promotions rather it's about providing a place you can answer questions, provide value and give relevant information.
One of the most straightforward ways to keep your audience engaged is through creating and publishing regular, informative content.
You can also do the following:
Ensure you're responding to comments / looking for questions left on your posts.
Creating polls - this could be as simple as asking what they'd like to see in your next blog.
Asking questions in your posts that encourage a response.
Running a contest. This could involve having your clients submit photos of their pets which can second as user-generated content as well. People also love seeing their pets on social media and will be more inclined to share the content you post of their pets to their own pages.
Promote offers such as discounts.
Provide insights to the latest knowledge and tips for pets.
Additionally, staying engaged will help you develop a greater understanding of your clients needs which will assist you in marketing to them more efficiently.
3. Helps retain current customers
Did you know it costs 6 to 7 times more to acquire a new customer than to retain an existing one across most industries? Taking care of your current and previous customers is as equally important as acquiring new ones, as well as more economical.
Additionally, customers who are loyal to you and have purchased from you before or visited you before are more inclined to spend more as they've experienced enough to feel they can trust you.
When you manage to maintain repeat clients, you'll know you're providing a positive customer experience - don't overlook the power of word-of-mouth advertising as well.
Marketing is about building a loyal client base and growing that audience. Maintaining your current customers is a part of that equation.
4. Increase your clinic's growth
While you should keep your current customers as a priority for reasons mentioned above, marketing will help expand your clinic and ultimately grow your client base. When you focus on creating a loyal customer base through new and current clients, you can help secure the future of your clinic.
Additionally, obtaining new customers through growth pays off in the long run as you can direct your efforts to maintaining these relationships also.
5. Build an online presence
Researching online is a part of the modern customer journey - when looking for a service or product, the first step for many is to head to a search engine and start looking for nearby vets. Part of that process also involves looking for indications that a clinic is legitimate and trustworthy before they reach out to you.
Having a fully optimised website with regularly updated content, positive user experience design and trust symbols embedded throughout will create a strong foundation for your online presence.
Additionally, they might even look into your social media channels to get a better grasp on who you are and the ethos of your clinic. If you look and sound like every other vet nearby and don't sell the you aspect of your clinic, what will help you stand out from your competitors?
Key Takeaways:
Marketing helps sell you and your story, engaging current audiences and helping you build a larger client base.
Building trust is important in allowing customers to feel comfortable doing business with you and bringing their pet to your clinic over your competitors.
The foundation for trust building can begin with simple marketing approaches.
Engagement revolves around building a two-way relationship with your clients.
Marketing towards your current clients helps you retain a valuable and royal fanbase - saving you money.
Having an existing online presence helps build your credibility to clients when they're researching potential vets.
If you want to maximise your marketing strategy this year, feel free to reach out to one of your veterinary digital marketing specialists on (07) 5636 3766 for more information, or book a consultation today.
Author:
Vet Marketing Services
About: Vet Marketing Services launched with one goal in mind - to provide affordable yet highly effective digital marketing services to veterinary clinics. Our custom made websites and modern marketing strategies are designed with your needs and goals at the forefront, optimised for highlighting the small details that'll bring local paws through the door of your business.