How To Make A Veterinary Clinic Social Media Plan
Posted on 23 June 2021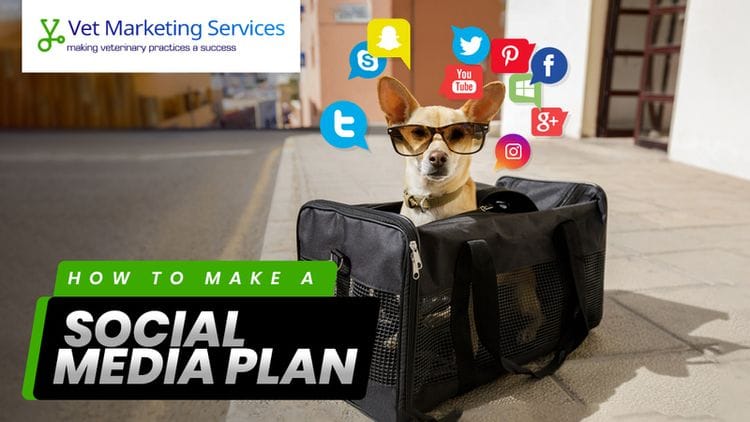 Did you know over 60% of the entire Australian population uses Facebook? Or that 1 in 3 Australians frequent Instagram? This data alone doesn't match the breadth and scale of social media - there's no denying it's one of the most valuable digital marketing tools available.
Whether you're active on social media in your personal life or not, we understand it can be overwhelming to get started when using it as a marketing tool. Maybe you're wondering whether you actually need a plan, but social media isn't just about posting content and hoping for the best.
While the benefits of implementing social media as a part of your digital marketing strategy are endless, to really enhance your chances of success, a plan is a necessity to keep you and your goals on track.
A plan helps foster consistency, organisation and allows you to measure whether you're reaching your goals. In order to really maximise the benefits of social media, a clear plan and strategy are essential.
First of all, what are the benefits of social media marketing?:
Attract more potential clients to your clinic
Help build your clinic's identity and brand online
Provide a platform for interaction and engagement with clients
Provides essential and valuable data into your audience and target markets
Increase website traffic
Potential for exposure to a large audience
A platform in which clients can leave reviews
Assists in search engine optimisation
Cost-effective

The following steps can help you create your own veterinary clinic social media plan
1. Decide what your goals and objectives are
When approaching this first step, it's helpful to think about why you're joining social media. Generally, there's a handful of goals you will have in your strategy, some of which relate to the benefits of social media marketing mentioned above. When deciding on goals, it's important that they're measurable and align with your overall business objectives. This will help you analyze whether or not the strategy you're using is working how you'd like it to. It's also likely you'll have more than one goal, which is completely okay and doable.
Examples of measurable goals include:
Increasing your clinic's brand awareness (measuring shares, likes of page)
Improve leads to your clinic
Grow a following in general (measuring follower counts)
Increase conversions / profits
Improve engagement with clients (measuring likes, reviews)
Following a SMART goals framework is an easy way to help you set your goals out. SMART goals stands for Specific, Measureable, Attainable, Realistic and Timely.
As an example, your goal might be to grow your followers - this is too vague to really know if your efforts are paying off. To make this a SMART goal, it could be set out as the following: to gain 50 followers through Facebook over a one month period. It's specific, measurable (50 followers over one month), both attainable and realistic and specifies a time frame.
Once you've been executing this strategy for a while, you can decide which parts work, which parts need tailoring and which parts to scrap altogether based on whether you're reaching your goals.
2. Think about who your audience is
You probably already have a good insight or idea of who your audience or who your clients are. This will help you get started, but it helps to be as specific as possible about who your ideal client would be. Ask yourself the following questions to really narrow it down:
Who are they? Gender, job title, location, age
What online platforms would they use? Research what platforms these demographics are most active on.
What are they interested in knowing about? Pet health tips, clinic updates etc.
How would they prefer to consume this content? Written, video, podcasts etc.
Additionally, once your pages are up and running, you can gain additional data from who is engaging with your clinic through social media and use this to evaluate if you can specify your market more distinctly.
3. Decide which platforms you want to use and allocate time
You may already have an idea of the sheer amount of social platforms that exist, so it might seem overwhelming to try and decide which one/ones are right for your clinic. To give you an idea on what you could be using, at the start of 2020 the top 3 most used platforms in Australia were, in order, Youtube, Facebook and Instagram. Generally, it's advised all clinics have a Facebook page at the very least - a Facebook presence helps build credibility as a legitimate business. When making this decision, it helps to ask yourself the following:
Is my target audience there?
Will it help meet goals and objectives?
What kinds of content will work on this platform?
Once you've thought about what's right for you, it's time to sign yourself up and get started! Keep in mind, it's not essential to be on every single platform that exists to meet your goals; you could end up spreading yourself too thin and wasting precious time without actually reaping the benefits of social media.
4. Fill out your profile (completely!)
It's essential to maintain consistency and professionalism across any of the social platforms you choose to use. Say you've got a Facebook and an Instagram page, your clinic's brand should be recognisable across all of them. This is applicable to both visual and textual elements.
Check off the following list for social media consistency:
Appropriate branded colours
Clinic logos on all platforms
Consistent messaging
Consistent voice style
Consistent style of content
5. Find Your Voice
Your social media needs a personality and this personality needs to help foster the relationship between your clinic and your clients. Think to yourself, if your clinic was a person, what kind of personality would it have and what would you want clients to think about your clinic?
If more than one person is going to be creating and posting on your social media, it's important that this is agreed upon and known to all users what's appropriate and what the clinic's 'personality' is. There's also the option of creating a "style guide" for your clinic in which all users can refer to for branding expectations when needed.
6. Decide on a posting schedule
A posting schedule is necessary to help you keep on track, keep you consistent and not allow your social media presence to become an afterthought. Having a schedule also means you can sit down and plan out what you'd like to post throughout the week all at once. Deciding on how often to post and when is also one of the most confusing aspects of the creating your social media plan. For that reason, keep in mind that this is likely something you will alter once you have some data available from engagement levels on your channel, so don't overthink it too much.
With that being said, the best standard practice for vets (keeping in mind other obligations) is posting 2 times per week, 1-2 times per week or more for Instagram and 2 blogs per month. Once you've got data to analyse, you can adjust posting accordingly - you can also adjust according to when you're receiving the most engagement, and schedule your posts according to the most active times of your audience.
7. Decide on what you're going to share
This is the fun part - this is where you can get creative and show your expertise and knowledge in interesting and valuable ways to your clients. There's several types of content you can choose to put on your social media including but not limited to video, images and blogs. This could be as simple as sharing stories and photos of the pets that visit your clinic. However, there is data backing up the popularity and success of video content - 55% of users say they consume video content more thoroughly than other content and are less inclined to skim.
8. Get posting!
Now you've covered all the bases, you're ready to get your clinic's social media presence going. Remember all the benefits that come with social media marketing , but most of all, don't forget to have fun with it.
Key Takeaways:
Have SMART goals - Specific, Measurable, Attainable, Realistic and Timely
Have a specific target audience planned out
Allocate your time effectively, don't spread yourself too thin across lots and lots of platforms
Fill your profiles out completely
Keep a consistent and professional presence across all channels
Use your "voice" to create your brand's personality online
Have a schedule to keep you accountable and organised
Be creative and informative with your content - it's all about adding value to your clients
If you're interested in social media services, feel free to call us at (07) 5636 3766 for more information, or book a consultation today with one of our social media marketing specialists.
Author:
Vet Marketing Services
About: Vet Marketing Services launched with one goal in mind - to provide affordable yet highly effective digital marketing services to veterinary clinics. Our custom made websites and modern marketing strategies are designed with your needs and goals at the forefront, optimised for highlighting the small details that'll bring local paws through the door of your business.