How to Make Engaging Social Media Videos
Posted on 12 July 2021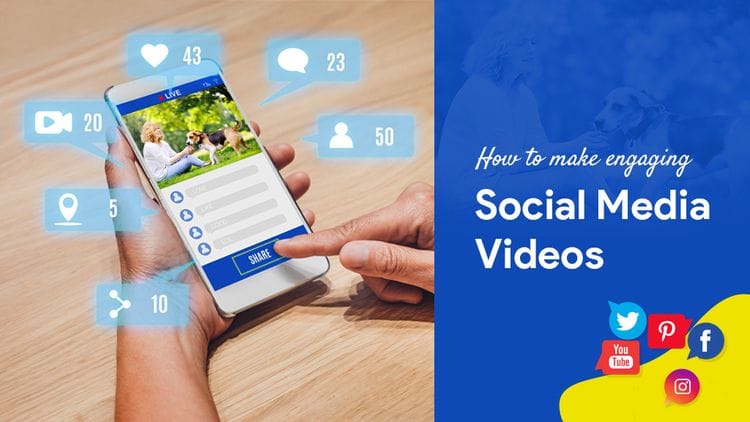 Videos are an essential part of most marketing strategies over all communication channels as they're easily digestible and easy to engage with.
Did you know that 74% of consumers say that watching a video on social media influences their purchase decision-making process? Or that customers retain 95% of a message when it's delivered through video? That's compared to 10% of a message when it's delivered through text.
72% of customers also say that they'd rather learn about a business through video, but how can you apply this to your vet?
Follow these tips to boost your reach and increase audience engagement:
Understand and Target Your Audience
Knowing your target market is the most important part of any marketing strategy.
When it comes to making videos, it's a little more than knowing their demographics. You should analyse how your customers consume content. Whether your audience consumes most of their content on social media or on your website, you might consider tailoring your content accordingly.
For example: Facebook is one of the most popular and successful video consumption platforms. The added benefit of Facebook over YouTube for instance is the ability to target your audience more specifically through location, sharing and the ease of following.
Adding onto the ability to share content, videos on social media generate 12 times more shares than text and images combined!
Timing is Everything
As mentioned above, by analysing your consumers, you can determine how long they're willing to sit down and watch your content.
As a good rule of thumb, it's probably a good idea to keep your videos short and to the point in case they're limited for time.
Tell Your Tale
Captivating your audience is simple when you've got a great story to tell.
Consider why you watch movies and what convinces you to sit down for the entire two hours or so. Storytelling makes people pay attention; once you're invested in the story, you start to wonder what happens next and before you know it, you can't pull yourself away because you've just got to know!
Your videos aren't going for Oscar nominations, but you can use the same tactics that those big movies do when marketing on social media.
If you're struggling to think of ideas for your stories, here's some freebies to get you started:
Go behind the scenes:
Take your audience through a day in the life of a vet in your clinic, show them the work that you do and the care that you provide their pets. This is a great way to build loyalty by inviting your customers to get to know you on a more personal level.
Tutorials or how to:
A great way to show your customers that you care about their pets' health and not just profit is by giving them tips to care for their pets at home. You don't need to teach them how to perform any surgeries, try something like these instead:
How to brush your dog's teeth
How to properly wash your dog
Correct way to brush your cat
How to encourage your dog to stop barking
Live videos:
If your vet hosts events often or offers special deals, live videos are a great way to get the word out and keep people up to date. Live videos are particularly effective now that COVID-19 restrictions are ever changing as they keep us close with our customer bases.
What Now?
Get out there! Grab a camera or your smartphone and get filming.
Follow the tips in this blog as a guide and if you need any more help with your marketing strategies, reach out to us today by calling (07) 5636 3766 or by contacting us online.