How to Market Your Clinic Like a Big Brand
Posted on 10 September 2020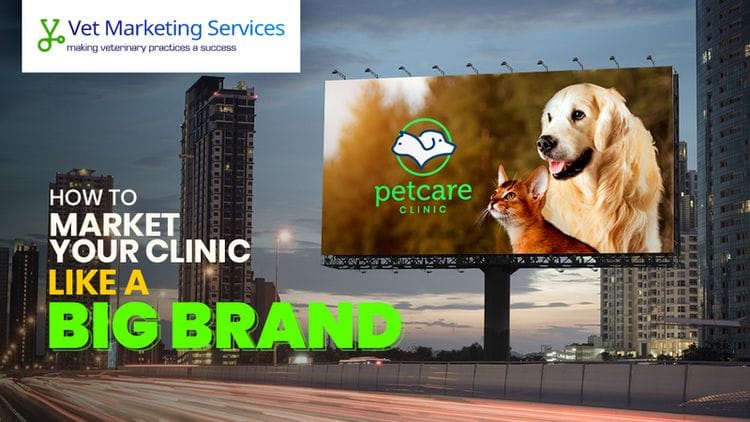 Like any industry, the veterinary industry has a lot of big players in the market that are often hard to compete with, especially if you're a smaller, locally owned clinic.
The good news is, there's no reason you can't market your own clinic like a big brand.
Bigger isn't always better - when you're a smaller to medium sized business you have the ability to focus on the finer details, adding value to your local community, particularly in ways that the big brands can't and ultimately creating fulfilling experiences for your clients.
The following tips can help you market your clinic like a big brand.
1. Think local:
Giving business to local owners is a trend that continues to grow in importance to Australian consumers, especially after the unprecedented circumstances following the pandemic. While the trend is likely to stick around, this doesn't mean you can sit back and not focus on optimising your local marketing.
The first step to marketing your clinic like a big brand is to think local. This way, even as a small/medium sized clinic, you can become the pillar in your local area.
Recently, we created a how-to guide on getting local pets to your clinic through local SEO tactics. Local SEO is worth your time - 97% of search engine users searched online to find a local business and 29% do so at least once a week!
This is the most efficient way to attract local clients to you. Whenever a "vet near me" search is conducted on Google, you want to be the one your neighbouring pet owners find.
2. Get involved:
Another way to think local is to get involved with your community. We know you're busy, but there's some simple ways you can get involved that don't require huge time commitments as well.
If you want to be more involved, you can take part in local community events or partner with local charities. Getting involved could also be as simple as sponsoring a local kids sports team or school fundraiser.
This type of marketing and networking is often overlooked due to the sheer presence of digital, but it's equally as valuable.
On the plus side, you can also create content and social media posts around these types of community interactions - this might encourage those involved with the sports team, charity etc. to share your post on their pages which will further spread your brand name to other locals.
3. Give more personalised experiences:
Smaller businesses create atmospheres that are difficult to beat and they often embody the vibrance and uniqueness of the local area.
Put yourself in the shoes of the client and step through the door of your clinic. Will your client experience cleanliness and an appealing environment?
Are bad odours non-existent or minimal?
Are you greeted by friendly and inviting team members at the front desk?
Prior to the in-house experience, was the booking process simple and was the client able to find all the information they needed on your website?
Though small, these factors matter and sometimes the little things can be overlooked by the big brands.
Additionally, when you're a smaller clinic, you have the opportunity to develop more in-depth relationships with your clients in order to give them more personalised experiences. Always try to give follow-up care and attentive support to your patients. It's also important to try and remember the names of regular clients (if you don't already) and to let every client who comes through know they're appreciated.
When you have an idea of how you want to deliver incredibly personalised experiences to your clients, we can help discuss how you can push this out through your social media, ads and website.
4. Utilise technology:
While in some ways it can be difficult to compete with the big players in the industry, technology is one way in which you can often level the playing field. Whether you do this by streamlining your website or learning how to compile a collection of amazing Google reviews, focusing on improving your technology can help you see your client numbers grow.
If your website functions are broken or you don't offer simple features like online bookings or testimonials, you can unintentionally push potential clients in the direction of the big players.
5. Keep your branding consistent:
One thing big brands do well is to keep their branding consistent. Think of the big brands you know and love - some of them are recognisable instantly just based on colour schemes.
Even though you might not have thousands of clinics globally like some big brands in any industry do, consistent branding helps keep you recognisable anywhere.
Keep logos and colour choices consistent.
Keep your employees aware of branding standards.
Keep your branding voice consistent across your website, social media channels and anywhere else you have interaction with your customers.
Overall, marketing like a big brand isn't out of the question just because you're a smaller or medium sized business. Though budgets may be smaller, there's plenty of cost-effective methods you can take to outperform your bigger competitors. Finally, remember that when you're a smaller clinic, you have the opportunity to provide more personalised experiences.
Key takeaways:
Think local - focusing on targeting local communities and using local SEO tactics in your marketing strategy will help you become the big brand in your local community.
Focus on the small details of your client's experiences in your clinics.
Try to make the experience as personalised as possible - be sure to provide follow-up care and let every client know they're appreciated.
Get involved with local events, teams or schools.
Up your technology game - a broken website can quickly push a potential client to a big player clinic.
Keeping your branding consistent across websites and social channels is important as it makes it easier for you to be recognised and amplifies your professionalism.
Is now the time your clinic marketed like a big brand? We can help. Contact your vet marketing specialists today for more information or give us a call on (07) 5636 3766.
Author:
Vet Marketing Services
About: Vet Marketing Services launched with one goal in mind - to provide affordable yet highly effective digital marketing services to veterinary clinics. Our custom made websites and modern marketing strategies are designed with your needs and goals at the forefront, optimised for highlighting the small details that'll bring local paws through the door of your business.