Unbeatable Post Ideas for Facebook and Instagram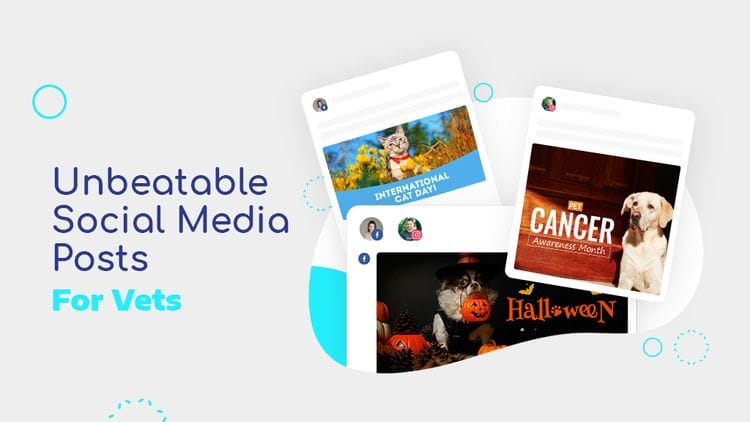 Sitting on Meta Business planner or Facebook not knowing what on earth to post? Save yourself some time with our extensive list of Facebook and Instagram post ideas to boost engagement and kick off your digital marketing content plan for your veterinary clinic.
Facebook and Instagram statistics for vets
Facebook is the most popular social networking site for veterinary clinics to reach their clients with an average of 2.9 billion monthly users. Instagram isn't far behind with nearly 1.5 billion.
Most vets try to post at least three or four times a month but many average closer to 15 - that's one post every second day.
Vets should use Instagram and Facebook to
Attract more potential clients to clinics

Build awareness of your clinic

Provide a platform to communicate with clients

Help link with their SEO

Increase website traffic

Boost booking numbers
What should vets post on social media?
60% of the Australian population uses Facebook. To reach more people on your veterinary clinic's Facebook page, you should create a social media plan. A typical social media plan will include:
Setting goals or objectives (SMART)

Analysing your target audience

Choosing a medium (YouTube, Facebook, Instagram)

Creating a profile (or updating it)

Creating consistent branding and voice

Sticking to a posting schedule
Keep reading How to Make a Veterinary Clinic Social Media Plan.
23 Facebook and Instagram Post Ideas for vets
Get your creative juices flowing by coming up with ideas to post to your vet's profile. Here are some of our favourite social media content ideas for your vet's Facebook, Instagram, Twitter, or LinkedIn page.
1. Local vet events
Local vet events are a great way to connect with both potential clients and local businesses that can help your vet. Some local vet events might include:
Dog park days

Breed-walk days

Pet shows and competitions
2. Patient stories
What's more relatable to clients than other vet client stories? Share success stories from patients that have come in and seen visible results.
Bonus points for pictures of the now healthy pets.
3. Educational and health awareness
Vets are authorities on pet health and can spread the right information about keeping dogs and cats healthy. While you want to keep a steady flow of patients coming through your clinic's doors, you also want to make sure pets are as healthy as they can be.
Spread educational awareness posts for vets might include:
Foods that pets shouldn't eat

Plants that are dangerous to pets

Pet habits

Information about and symptoms of illnesses
4. Share vet memes
Memes are funny, relatable, and shareable. Every like, comment and share your vet clinic's post gets will boost awareness and fast track your social media strategy. Examples of vet memes might include:
Funny pictures of dogs and cats

Current events related to pet humour

Screenshots from movies that have dogs and cats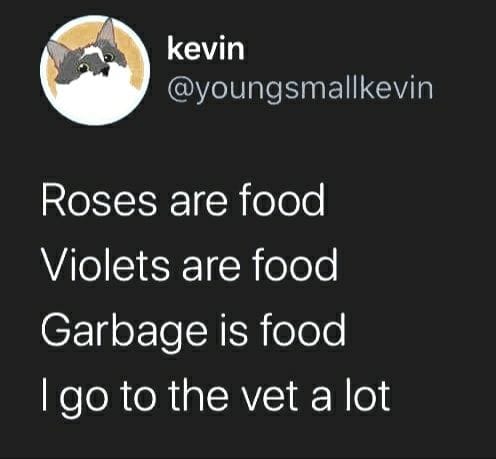 5. Celebrate holidays and national days for vets and pet owners
Holidays and national days are a great way to quickly get likes and engage with the public that doesn't know about your clinic (yet). Not only will you be sharing and celebrating with your followers, but you can also use hashtags to reach even more people.
Some examples of holidays and national days for vets include:
National Hug Your Cat Day

Meow Like a Pirate Day

Pet Poison Prevention Month

National Walk Your Dog Day
Need more examples? Check out our full list of animal and pet holidays for Facebook and Instagram posts.
6. Meet the team posts
Meet the team posts are a fun way to be more personable with your clients. It's also a great way to sneakily advertise your services that clients don't know you offer like grooming or microchipping.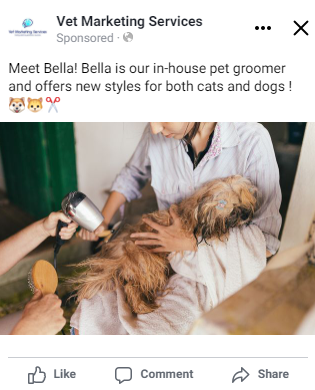 7. Lost and found pets
Feed two birds with one scone. Helping pet owners find their loved ones is a great cause and it shows that your clinic cares (because it actually does).
8. Pet lookalikes
They say that pet owners always look like their pets. Why not put that to the test (with the person's permission). It's a great way to lighten the mood and create engagement from your clients.
You could also try matching pets to pet celebrities like Lassie or Milo and Otis.
8. The unusual suspect
Has an interesting animal visited your clinic today for a check-up? Share the event with your Facebook or Instagram followers and spread the word that your clinic can handle more than just dogs and cats when it comes to pet health.
9. Ask a vet
If you've got the time to sit down and respond to a few questions, post an ask a vet themed post on social media. Respond to comments honestly but remind audiences that every pet is an individual and that without seeing them for a proper checkup, you can't give an accurate diagnosis for sicknesses.
Try and keep it to lighthearted questions like, "Why do dogs eat grass?" or "why do dogs wag their tails?".
10. Staff appreciation
Nothing shows humility and appreciation like saying thank you to your staff. While they may not be completely unsung, they're still your clinic's heroes. A staff appreciation post example would look like the following: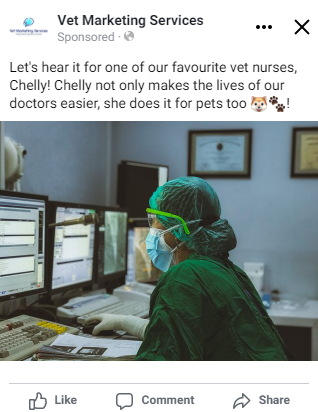 11. Your latest blog
Does your clinic have a custom veterinary website where clients can book appointments, learn more about your team, and find your location and contact information? On that website, do you share blogs with helpful tips for pet owners (you should!)?
If you release a monthly blog on your website, you should share it with the public through Facebook and Instagram with links to go to your website and read it. And if you're not a fan of writing, or you don't have much spare time, we can help you with writing services.
Our writers write monthly blogs for vet clinics across Australia and are pretty good at it. Why not start a blog for your clinic to help boost your SEO scores and help your clients better care for their pets?
12. Polls and votes
Simple questions with voting and polls are a fun way to get your audiences engaged with your vet's Facebook. Try simple yes or no questions or choose your favourite categories to get started like:
Which breed of dog do you think is the noisiest?

What is your favourite type of cat?

Does your dog like to swim at the beach?

Does your cat like baths?

Which of the following activities does your dog love the most?

Which of the foods below does your cat love most?
13. The in-clinic exciting event
Staff birthday with lots of cake? Share it with your clients! Some more ideas of in-clinic events you could share include:
Work anniversaries

Exciting unusual animals and breeds

A pet's birthday

A brand new set of puppies or kittens
14. The 'share'
Find a great article from the local paper or advancement in pet health science? Share it on your Facebook page and show that you're keeping your ear to the ground with pet health developments and that you care about the wide world of animal sciences. It also helps owners keep their pets in tip-top shape with the latest advice from experts.
Some great articles to share with your pet clients include:
For particularly wordy articles, it might be helpful to summarise the important points for your audiences that are always on the go and need info fast.
15. Vet or animal joke of the day
Jokes and puns aren't for the faint of heart and we can't guarantee you won't lose followers for posting too many puns. But let's be honest, they're pretty funny. Here are some of our favourite pet jokes from vet Facebook pages:
What do you get when you put a leash on a cockatoo? A walkie-talkie!

Why do dogs chase their tails? To make ends meet!

Why did the cat's movie stop? Because they put it on paws!
16. Quick videos
The rise of TikTok didn't miss vets and many veterinary clinics use TikTok and other short video platforms and reels to advertise their clinic and reach their followers. You don't have to sign up for ANOTHER social media platform to create short, digestible content for your followers. Instead, use video editing settings on Instagram and Facebook to take short clips of:
Surprises for staff

Cute pets in your veterinary clinic

A short thank you to clients

Short training tips
17. Pet training tips
Pet health and training tips are great for new pet owners that are trying to find as much information as they can about their new friend. You can also sneakily hide advertisements for services like behavioural training and puppy schools.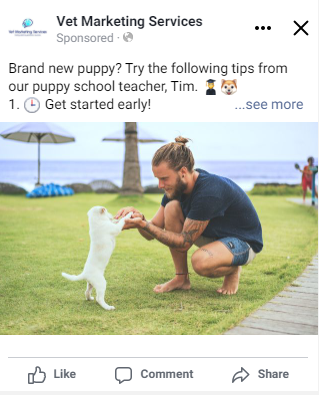 18. Up for adoption
Have a client that breeds pets for adoption or a pet that needs a new home? Why not use your following of pet lovers to give puppies, kittens, and unfortunate pets somewhere new to live. It helps fill your social media feed and it's a great cause.
19. Name this puppy or kitten
On the topic of new pets and welcoming animals into homes, a great way to increase your engagement on social media is to ask your clients to give a puppy or kitten a new name. Ask for suggestions and, if it's appropriate, mention that the most liked comment with a name is what it will be!
20. Special offers
Do you have a few free appointment slots that you'd like to have filled or feel like being generous? Create a quick number of bookings with special offers on Facebook and Instagram like:
Discounted dental check-ups for dental health month

Free first check-ups for new clients

Free bathing with every new dog and cat grooming appointment
If you aren't generating the numbers you'd like, you can always boost your post to advertise to audiences around your area that aren't following you, too.
21. Guess the breed
Have some followers that count themselves as animal aficionados? Put them to the test with this fun, exciting and crowd engaging Instagram and Facebook post. Find a pet from your veterinary clinic and (with the owner's permission) post it to your page. Ask your followers if they can guess the breed of dog or cat it is and offer prizes for the first correct guess.
22. Updates on the clinic
Not only is this information critical for your clients, but it's also a great way to fill your feed with content and keep front of mind. Some clinic update post examples include:
A change in location

New efforts in your veterinary clinic's garden

Renovations
23. New equipment or specialists
Posting pictures of new veterinary equipment or specialists is a creative way to advertise upcoming services that your clinic can offer like X-Rays or fast blood testing.
More inspiration
For a complete list of over 100 animal-related veterinary holidays and national events, check out the Vet Marketing Services Social Media Post Calendar. It includes tips, tricks, and helpful information on post scheduling, content creation, and more.
Vet Marketing Services also offers content creation and management services for veterinary surgeries. We can take the reigns on writing, creating images, and posting content to Facebook, Instagram and your Google Business Profile to help get you more listings online and more bookings in your clinic.
Contact us for a free quote and price for your veterinary social media plan or call now at (07) 5636 3766.
Author:
Vet Marketing Services
About: Vet Marketing Services launched with one goal in mind - to provide affordable yet highly effective digital marketing services to veterinary clinics. Our custom made websites and modern marketing strategies are designed with your needs and goals at the forefront, optimised for highlighting the small details that'll bring local paws through the door of your business.