Why Content Is Important For Your Clinic
Posted on 16 July 2020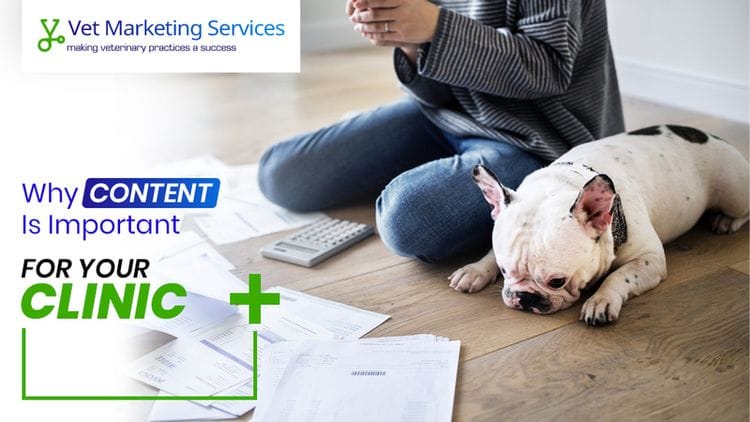 Despite the exponential growth of digital marketing over the years, when it comes to the foundations of a strong marketing strategy, it's back to basics. We're here to talk about why content marketing strategies are still an essential aspect of your overall marketing in 2020. Clinic owners and veterinarians shouldn't look past the effectiveness of quality content - though it can be time consuming, content creation doesn't have to be difficult.
Content can be a blog, a newsletter, a podcast/video or anything in between. Content isn't just about giving internet users something to consume; it's about providing them value, knowledge and even entertainment by crafting something of quality.
Maybe you're wondering, what could I write about? Here's a quick list of ideas to get your creativity flowing!
Health tips for pets
A recent event you held
A local team/school event you've sponsored
Updates in the clinic
Heartwarming stories about a pets recovery
Tips for the changes in seasons
Introduce your team and yourself
Anything that shows your expertise in the industry
Anything that tells a story

Content and your clinic: what can it do for you?
Drive your SEO & improve your Google rankings
Content helps build and boost your rankings in search engines; they're a perfect pairing that work in sync with one another. Creating quality content that's relevant and optimised helps search engines rank you higher. Some of the components factoring in to content optimisation involve on-page content - optimised header, images, backlinks (which we'll talk more about later). Additionally, the search engine crawlers look favourably on websites that are regularly updated, which is most easily done through content.
Save time in the long run
We get it - sitting down to write a blog or a newsletter can seem like too much of a time commitment. However, there's some good news: when you commit time to creating content, you save time in the long run. What we mean by that is whatever content you create can be shared across platforms - from your website to your social media channels. A good example of this is writing a blog for your website and then sending it to your subscribers via email. With one piece of content you've ticked the boxes of improving your website (and SEO efforts!), engaged social media and your email marketing campaign. This not only saves you time and energy, but adds value to your clients.
Improve Your Backlink Strategy
Building a strong backlink strategy takes time and effort, however, there are simple ways to get started. A backlink is simply just a link from one website to another website, but they're important because it signals to the search engine crawlers that your content is noteworthy. Therefore, it can really help with your SEO.
Blogs are one of the simplest ways to get started with backlinking. Websites with frequently updated blogs generate 97% more backlinks, which is why it's so important to keep content creation frequent. Internet users love to share information, whether that be on their own blogs or their social media, especially when it's interesting and provides value.
To get started with backlinking, try some of the following content ideas:
How-to's
Lists (informative or important tips)
Guest blogging on an industry partner/suppliers website (they can reference you via a link in return)
Create videos (this could be pets who come into the clinic)
Improve awareness of the clinic
As mentioned above, content is great to share across your platforms. It's a double win as it increases the chances your content will be shared further - particularly on social channels. This could be anything as simple as friends tagging friends on your post, sending the link to someone else or a simple "like"; it all helps gain traction and attention for your clinic. 75% of internet users say they read blogs regularly which means the demand for content is definitely still alive and thriving. If you do it well enough so potential or current clients perceive value in your content, it can greatly improve the likelihood of being shared further.
Increase leads
Insightful and relevant content for pet owners is a great way to increase your leads. Content works most efficiently when the focus isn't on pushing sales but encouraging engagement and providing value to clients. This could be anything that pet owners would find informative or interesting - for example: sharing your knowledge through seasonal health tips, what to do in the event of a tick etc. As a professional in your field, you know what pet owners want or need to know - this is a great foundation to build your content strategy around.
Get more clients through the door
It's a simple equation: an increase in leads equals a greater chance of gaining a new client and having them walk through your clinic doors with their pet. Insightful, knowledgeable content encourages potential clients to make more informed decisions, building their confidence in following through with the decision to bring their pet to you (and not your competitors!)
Show your veterinary expertise; create trustworthiness
A great way to think about content is as an opportunity to talk to potential clients without being face-to-face. In today's technology based society, your website and/or social media can often be the first interaction a client has with your clinic. Don't be afraid to use content as a way to show them who you are, what you know, tell them more about your clinic and how you can help them and their pets. This helps get the relationship between clinic and client going all while solidifying your expertise as a veterinarian and encouraging their trust in you.
Key takeaways
Helps generate leads to your clinic
Save time by using your unique, quality content across all your channels - newsletters, social media etc.
Quality > quantity
Helps your SEO strategy
Builds your clinics credibility and trustworthiness, solidifying your expertise in your industry
Helps spread brand awareness
Add value to your current clients and potential clients
Helps build a foundation for your backlink strategy
Improves conversions in the long term
Maybe you're thinking, "but I'm a vet, not a writer?" or, "I really don't have time to write?" - the good news is, you can always outsource this task to a marketing whiz so you can focus on helping pets and running your clinic while they take care of your content. While keeping your content up-to-date and regular is important, it's also equally as important for this content to be of quality.
It's super easy to tick multiple boxes of your marketing strategy by just allocating some time to content creation - the opportunities really are endless. If you want some extra help maximising your content marketing strategy this year, feel free to reach out to one of your internet marketing specialists on (07) 5636 3766 for more information, or book a consultation today.
Author:
Vet Marketing Services
About: Vet Marketing Services launched with one goal in mind - to provide affordable yet highly effective digital marketing services to veterinary clinics. Our custom made websites and modern marketing strategies are designed with your needs and goals at the forefront, optimised for highlighting the small details that'll bring local paws through the door of your business.