13 Most Common Negative Reviews for Vets and How to Respond
Posted on 25 January 2022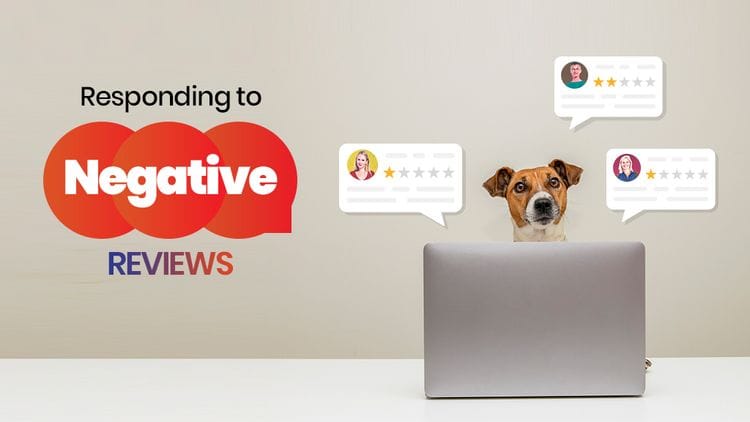 The current climate is the toughest it has ever been for Australian vets.
Covid-19, uncertainty, urgency, an influx of pet owners, and a shortage of staff. Sound familiar?
Even at the best of times, negative reviews can be left by disgruntled clients. It's tough to swallow when you put your heart and soul into your veterinary clinic and provide excellent service to every set of paws that come through your doors.
More than that, Google Reviews affect your website score and show up when clients try to find your website.
Why your vet is getting negative reviews:
You try your hardest to be the best vet clinic that you can be. But negative reviews are inevitable so don't take them to heart.
Even the best vets get bad reviews.
So, whether you've logged onto your clinic's Facebook page or Google business listing and see a low star review…
Don't panic!
Responding to negative feedback on your vet clinic is easy. And, if you do it right...
You can even turn a bad situation into a good one.
Should you respond to negative reviews?
Yes, you should always respond to negative reviews because it shows that you're concerned and that you want to improve your service.
You shouldn't ignore negative reviews because responding to bad reviews helps to
Show clients you care about them and their pets
Show clients you want to keep your service at a high standard
Make your clinic even better
What to say to negative reviews
It's a bit harder for vets to respond to bad feedback because you're servicing a treasured member of their family. It's not as simple as taking food back to the kitchen and remaking it, and so, your response is critical.
The best steps for vets to respond to negative reviews
Respond quickly (same day is best)

Acknowledge the issue

Apologise (even if it's not your fault)

Provide a brief explanation if it's relevant

Ask for contact details to talk more privately

Correct the problem
What to do when your vet gets a negative review (steps to respond)
Respond quickly
Time isn't just money. It's valuable minutes and hours you could be spending making pets feel better. Responding to bad reviews can put a dampener on your day and be a hassle to take the time out for, but the more often you do it, the easier it gets.
From managing vet social feeds, we've found that the faster the response, the easier it is to have it solved. You should respond to negative comments and reviews within 24 hours for the easiest solution. Any longer than that, and clients could have contacted other vets, posted on other platforms, and escalated problems for your clinic.
Working in a clinic, it's rare to have a chance to stop and scroll through Facebook. So, set some time out of your day (maybe 30 minutes before you close, or at home) to respond to positive and negative reviews.
Acknowledge the complaint
You've poured hours into building your clinic, and you're proud of it. That's why, sometimes, it's hard to put pride aside and acknowledge a complaint.
But as hard as it is to admit, not everyone is likely to leave 100% happy even with your best efforts. Mistakes and accidents happen, appointments can run late, staff can call in sick, and services can suffer.
Showing your empathy and understanding to reviewers goes a long way in getting their problems solved and getting more positive feedback. Some of the best phrases to show compassion when responding to poor reviews include:
"We're sorry to hear you had a bad experience."

"It's unfortunate that you feel you had a bad experience with us."

"We hope we can help you better in future."
Apologise and empathise
Now that you've acknowledged the client's issue, it's time to apologise (if you're in the wrong).
Here are some example apology responses for vet reviews:
"We apologise for the inconvenience to you and (pet's name)."

"We apologise that our service wasn't up to scratch for you and (pet's name)"
Should you apologise to reviews if it isn't your fault?

Yes, but also, no. Instead of apologising for poor service or similar, apologise for not meeting their expectations and wish them the best in finding a service that can.
Provide a brief explanation
The purpose of explaining events in review responses is to highlight why an event may have happened and provide a backstory to other readers. In doing so, it's less likely to look like negligence and more likely to show your personality to clients and encourage them to see you on a closer level.
When explaining why the event happened, try the following:
Don't justify your actions to defend yourself. Explain the events apologetically.

Offer alternatives or explain what you'll do in future to prevent it from happening again.
Ask for contact details to talk privately
Public grievances are rarely good PR for vet clinics. To avoid public back and forth with clients and escalating problems, ask the reviewer for their preferred method of communication and reach out to find a solution.
The most common negative reviews for vets, and how to respond (with examples and responses):
As annoying as it is, it happens. Extend your contact details to the reviewer and ask them for feedback so you can help them.
A client accidentally chose 1 star instead of 5 for their review

How annoying! Does this count as a negative review? According to Google and the SEO team at SEJ, it does.
First, highlight that you're glad they were happy with the service. Then, instead of demanding they change it accordingly, empathetically jest at their mistake and hope for they read your response and change it.
If they don't read your response, laugh about it next time they're in your clinic (lightly highlighting why reviews are important for your vet clinic).
A client didn't get to see the veterinarian that they wanted to see:
Acknowledge and thank the client for their preference, after all, they obviously value your service very highly. Then, emphasise that their pet is in excellent hands, as each member of your staff is highly trained and valued too.
Long waiting times, or appointment availability:
If not the pandemic, there's always pressure weighing on local clinics. Thank the client for choosing you and then explain that all pets are valued equally and should be given the time and attention that they deserve.
Unfortunately, sometimes this means that appointment times can run longer than expected, but you wouldn't sacrifice a pet's care and try and race the clock.
Vet clinics are investing additional time into making sure clients have a strong relationship with them. Respond to the client and offer your contact details to discuss the issue further.
Prevent the issue from happening in future by keeping up with other vet clinics online. Post to social media channels often, and keep your clients up to date with monthly newsletters.
The client claims that a member of staff was rude
Be sure to communicate internally before reaching out to the client for the full story, then respond honestly and appropriately.
You can publicly explain your side of the story, but sometimes it's best to leave it be and be the bigger person like the example above.
The client claims that services and medications are too expensive
Keep your response honest and simple, and highlight payment options that your clinic offers.
Made-up or false reviews from a client
Don't contradict or call out the client, even if they're telling a lie. Instead, state your policy (if you have one) and provide contact details for them to discuss the matter further.
If the made-up review is particularly negative and you can't risk having it public, you could contact your platform's customer support.
If your veterinary website is managed by Vet Marketing Services, contact us, and we'll help to organise a solution asap.
Your website is too hard to find
Google is super competitive, and other vets will try to steal clients by appearing ahead of your clinic on Google listings. Even if one of your clients searches your clinic's name, other vet clinics can appear ahead of yours.
Apologise to the customer and offer them a direct link to your website and offer alternative ways to reach you, like social media.
You can prevent this from happening in future by improving your website's SEO.
Fake reviews from the competition, other vets leaving fake reviews
Business can be sour– even in the vet world.
First, you need to be certain that another vet has left a negative review. Then, you can contact your platform provider (Facebook, Google, Instagram) to have the review investigated and removed.
"My pet is still sick after seeing the vet"
This one is a bit trickier because of potential legal implications– but it's not impossible. Respond to the client by:
Thank them for taking the time to leave the review so you can improve your service

Express concern and highlight that their pet should be taken back to a vet as soon as possible if they're still sick.

Ask the client to privately send their contact information through so you can book them an appointment as soon as possible.
Responding to a negative grooming service review
If a client regrets their grooming style for their pet and has left a negative review, you can turn this into a great opportunity to advertise your grooming service to other clients.
Thank the client for their review and for choosing you, then offer a discount on their next grooming service.
Link your best before and after photos for the client, and any other reader of the review– turning the negative review into a positive advertisement for your service and evidence of your amazing work.
A pet has reacted poorly to treatment or medication
Explain to the client that like humans, pets have different reactions to medications and treatments. Then offer another booking time to help get their pet feeling 100%.
If your website has a blog (which it should), you can direct them to your helpful tips and advice articles for additional information.
Your stock levels are always low on pet food
If you're like many Australian vets and sell pet food in-clinic, sometimes an unexpected surge in purchases can lead to low stock levels. Unfortunately, it's impossible to predict sometimes and it happens. To respond:
Apologise for being low on stock and explain that the food is really popular (highlight why it's popular and why you choose to recommend and sell it).
Offer to order them an extra bag from your next shipment, or to hold one aside for them if they are happy to come in one day soon (no one wants a bag of dog food hiding under the reception desk for long).
Thank the client for choosing you, then offer other ways to make bookings like through your website.
Was the bad review response you wanted not here?
Reach out to us between Monday to Friday 9 am to 5 pm at (07) 5636 3766 and let us know your situation. We'll put our heads together to come up with the best-written response and then, we'll add it to this list to help other vets in future.
Should you respond to good reviews as a vet?

Reviews are important for your clinic and a great way to encourage more is to engage with your clients. You should respond to all reviews, good or bad, to solve issues and better your clinic.
Keeping a positive online presence and maintaining a high star-rating
The best way to maintain a positive relationship with clients and a great presence online is to get a little bit of help from the experts.
Vet Marketing Services works exclusively with Australian vets and understands the industry. We put careful thought and attention into every website, newsletter, social media post, and blog that we help our clients with.
And like you, we want to help provide the best possible service to your clients.
Call us for a chat at (07) 5636 3766, or contact us online.
Author:
Vet Marketing Services
About: Vet Marketing Services launched with one goal in mind - to provide affordable yet highly effective digital marketing services to veterinary clinics. Our custom made websites and modern marketing strategies are designed with your needs and goals at the forefront, optimised for highlighting the small details that'll bring local paws through the door of your business.