2022's 30 Top Hashtags for Aussie Vets | Facebook & Instagram
Posted on 31 March 2022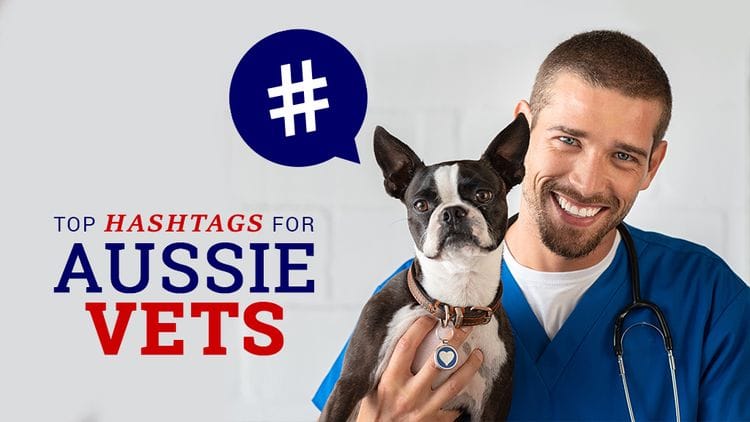 Top hashtags for vets
The most popular hashtags for vets in Australia are, unsurprisingly, about animals. But, to see measurable results, you can read the list of our top 30 hashtags for both Instagram and Facebook for vet clinics, and our follow-up step-by-step guide to learn how to use them. To boost your veterinary marketing plan, choose your favourite hashtags and copy and past them to get started.
Are hashtags worth still worth it?
Hashtagging is a trend that's here to stay. That's probably because they're the best tool on social media to:
Boost reach and increase views

Make the most of a trending topic

Promote vet clinic events

Reach specific target markets around your veterinary centre
But, hashtags can have another set of teeth if you use them the wrong way. Read "Should Your Vet Clinic Still be Using Hashtags This Year?" To learn some tips on:
Avoiding spam hashtags

Using your location

Watching trends
There are some great guides out there from companies like Hootsuite and even Instagram, but they aren't built for vets. Hashtags that are relevant to your industry are always better. Read our top 30 hashtags for Australian veterinary surgeries on Instagram and Facebook below.
30 Top hashtags for vets in Australia and tips to use them
Hashtag trends are always changing on social media, but in the veterinary marketing world, some are always going to be popular.
The trouble with using the top hashtags is that everyone else is too. You've put time and effort into your post, if you use a hashtag that's too common, it could get lost in a sea of competing for veterinary surgery posts.
30 top popular hashtags for vets in Australia:
#Veterinary

#Vet

#Veterinarymedicine

#Veterinarian

#VetAustralia

#Dog(s)

#Cat(s)

#pet(s)

#DogHealth

#CatHealth

#PetHealth

#VetClinic

#VetStudent

#VetLife

#VetMed

#VetMedicine

#VeterinaryMedicine

#VetNurse

#VetNursing

#PetHealthTips

#VetCare

#PetCare

#VetSurgery

#VeterinaryClinic

#Catsofinstagram

#Puppy

#Kitten

#Animals

#AnimalHealth

#Love
Copy paste your favourite top hashtags for your veterinary clinic's posts:
#Veterinary #Vet #Veterinarymedicine #Veterinarian #VetAustralia #Dog #Cat #pets #DogHealth #CatHealth #PetHealth #VetClinic #VetStudent #VetLife #VetMed #VetMedicine #VeterinaryMedicine #VetNurse #VetNursing #PetHealthTips #VetCare #PetCare #VetSurgery #VeterinaryClinic #Catsofinstagram #Puppy #Kitten #Animals #AnimalHealth #Love
Upcoming dates and national days to use your hashtags

Vet Marketing Services recently took the guesswork and research out of finding events and relevant national days for Australian vets in our 2022 Vet Marketing Services Social Media Calendar. This calendar is completely free and lists every special event or day relevant to Australian vet clinics by month and date.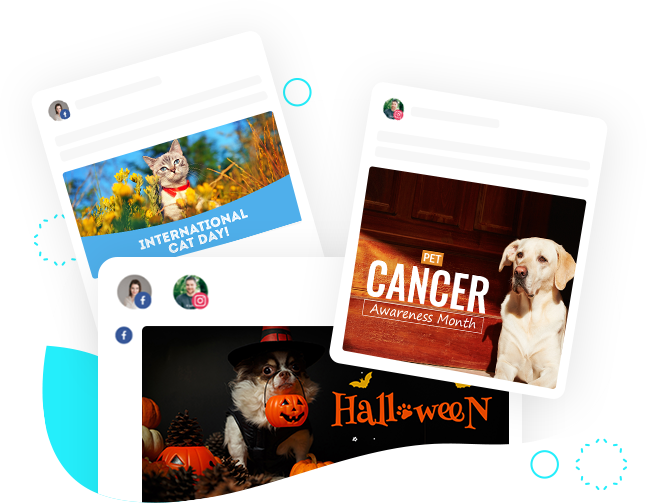 Best ways for vets to use hashtags on Instagram and Facebook
Personalise your hashtags
You can personalise your hashtags so that your clients can find you easier online. Try hashtagging your clinic's name and adding it to each of your posts.
Encourage clients to join you
Encourage your clients to share hashtags with your veterinary surgery or clinic. User-generated content is a great way to boost your vet's notoriety and an even better way to get closer with your clients.
How many hashtags should you use on your vet's post?
Vets can include up to 30 hashtags on an Instagram post and up to 10 hashtags on a story. If you try to add more, you won't be able to publish the post.
But, sometimes, less is more. At Vet Marketing Services, we don't recommend using any more than 10 and would recommend keeping it even lower. Three to five hashtags per post for your vet clinic would be best– so choose your hashtags carefully!
Get some help
Googling can be enough sometimes, but we'd recommend talking to an experienced social media expert. Vet Marketing Services works exclusively with vets in Australia and provides:
Facebook, Instagram, and Google Business Profile content (Custom-designed images and words)

Blogs and SEO services

Custom website designs and hosting

Email marketing and newsletters

And more
We offer customised solutions for each veterinary surgery that needs help with its website or marketing efforts.
Contact us online or call at (07) 5636 3766.
Author:
Vet Marketing Services
About: Vet Marketing Services launched with one goal in mind - to provide affordable yet highly effective digital marketing services to veterinary clinics. Our custom made websites and modern marketing strategies are designed with your needs and goals at the forefront, optimised for highlighting the small details that'll bring local paws through the door of your business.