2022 Australian Veterinary Social Media Post Calendar
Posted on 23 November 2021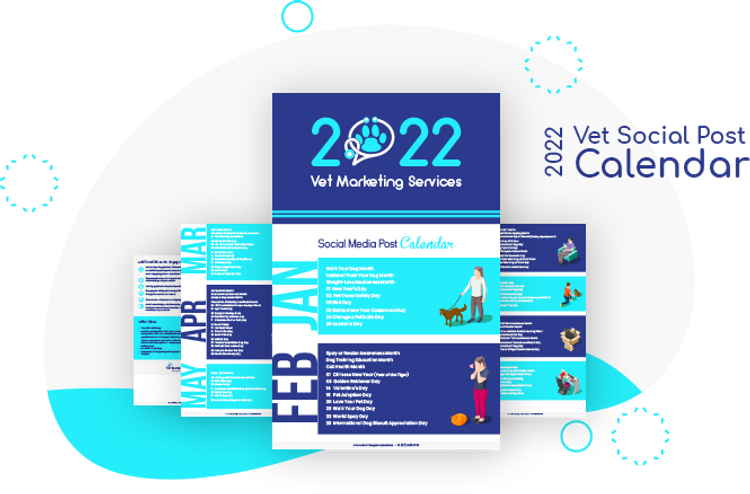 The 2022 List of Australian Pet Holidays & How to Strategically Use Them In Your Practice
Wow, the time flies– Especially for busy Australian vets, right?
We've helped several Aussie vets with their websites and digital marketing efforts this year, and we can't wait to help even more vets in 2022.
In calendar form, we've created an entire list of Australian events and holidays relevant to animals and vets to kick–start the year!
So many vet clinics default to cliché content fillers like sharing pictures of pets, and while there's nothing wrong with it, it can get a bit bland for your clients.
So here's our challenge to Aussie vets for this year: Don't be just like the other vets!
Don't default to the same posts you've been using in the past because it doesn't provide your clients with anything, and it doesn't help set you apart.
Social media and marketing can be a fantastic tool for clinics to build their strategies, as long as vets use the right tools, information, and simple steps.
How to use your 2022 Social Post Calendar:
Ok, so now that you have all of these holidays, events, and days dedicated to animals, how do you use them?
Here are 3 easy tips to get you started:
Don't oversaturate your social feed
There are many vet-related social media ideas in the calendar, and you could use one of the post ideas every few days. But, too much content can get overwhelming for your audience.
So, instead of posting every single idea in the calendar, pick which are directly relevant to your clinic. For example, if your clinic doesn't offer grooming services, you probably won't find much use in an event like World Bathing Day.
But don't worry though, there's close to 150 events, posts, and ideas for vets in this calendar– you'll find plenty to choose from that will help bring paws through the doors of your clinic.
Don't just announce events or holidays
Your clinic's Facebook page is more than a daily update for your clients. It's a way for them to engage with you and build loyalty.
So, don't just say, "Hey! It's Walk Your Dog Day!". Try sparking up a conversation by suggesting some of your clinics recommended walking trails for dogs and asking your clients where their favourite places are.
Don't forget your call-to-actions (CTAs)
Social media is also a great way to encourage your clients to take action. Some great ideas of actions to encourage are:
Booking in for a check-up or other appointment

Reminders keep vaccinations up to date for their pets

Sharing your clinic's contact details with their friends and family

Checking out your website's latest blog posts or articles

Grabbing tickets or registering for an upcoming event
Getting started
There's no better time to market your clinic or practice than right now, and your free to download Social Post Calendar for Aussie Vets will help you produce incredible content and bring paws through your clinic's doors.
Using your calendar, you'll never miss an opportunity to educate your clients about health topics, products, services, or news and events for your local community. And all the while, you'll be engaging with your clients and growing your clinic's success.
Some more free resources to market your vet practice:
Why stop while you're on such a roll? Keep up to date with the latest news and tips to market your veterinary practice.
Sign up for newsletters and more tips to grow your clinic's success
Vet Marketing Services is proud to help Australian veterinarians grow their clinics.
And there's not enough time in the day to be a full-time animal hero, as well as an online marketing guru.
But with a little bit of help, we can get you there.
Give Vet Marketing Services a call at (07) 5636 3766 or contact us online.
To easily book in for a free consultation and advice on your veterinary digital marketing strategy for 2022, click the link below.
Author:
Vet Marketing Services
About: Vet Marketing Services launched with one goal in mind - to provide affordable yet highly effective digital marketing services to veterinary clinics. Our custom made websites and modern marketing strategies are designed with your needs and goals at the forefront, optimised for highlighting the small details that'll bring local paws through the door of your business.