5 Requirements For Any Veterinary Website
Posted on 31 May 2022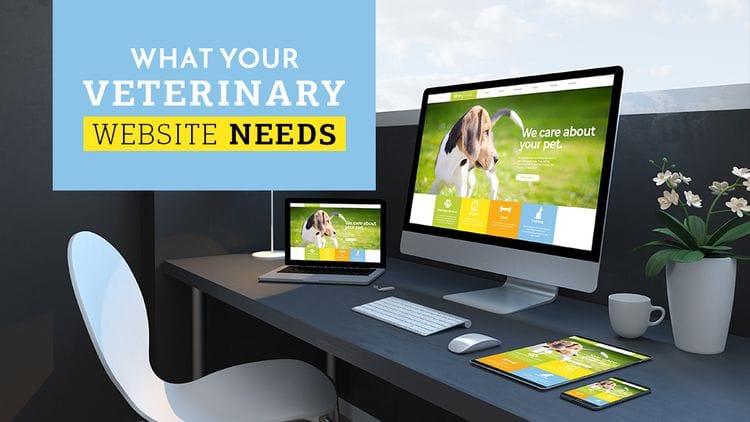 Starting with custom-built websites
Vet Marketing Services designs websites for veterinary clinics. We've been in the industry for over 15 years and our team has designed literally hundreds of websites for small Australian businesses and veterinary clinics.
Over our years in operation, we've pinpointed the five most important features of website design for vets and know the most important things to put on your website.
To make it a bit easier for vets looking to create websites using a marketing agency, we've compiled a list of requirements for a veterinary website, as well as a bunch of other features that will help you fill bookings and keep paws coming through your doors.
So, whether you're making your own site, or looking for someone to help you, here are the most important features to get started.
What should vet websites have: what your website needs
At the least, veterinary websites should have the following pages:
Home page

About us

Contact us

Services Page

Online bookings
Do you remember the 5 W's? Well, Vet Marketing Services list these as 'must haves' because they fill all five: Who you are, what you can do, when you can help them, where your clinic is, and why they should choose you. And for a bonus, how you can help using your services.
Home page
Your home page is probably the most common landing page for vets. To avoid losing potential clients here, your home page should:
Show clients who you are by establishing your brand identity

Direct clients to where they can learn more about you and your services

Have SEO optimised content with headlines, supporting written content and imagery
About us
For vets, an about us page is more than just selling products and services. It's an opportunity to show your clients your compassion for their pets and a chance to share the history of your veterinary surgery or clinic.
We'd recommend to vets that their website's about us page does the following:
Explains the history of their vet clinic (years in operation, why it was built)

Tells clients a little bit about their team and what veterinary specialties they can offer

Displays some services that can be provided

Says where your clinic is
Contact us
Your contact page is undoubtedly the most important page on your website. It tells your clients how to contact you and where they need to take their pets. Your contact page should contain:
Your address

Your contact number

Your open hours

Links to your social media pages
Vet Marketing Services includes integrations with Google Maps to make it a little easier for clients to find you. They can easily click the map, send the directions to their mobile devices and hop in the car.
We also have built-in form integrations so customers can send messages to your clinic with their contact information.
Services
Of the veterinary websites we've created and actively manage for SEO, the services page is one of the most visited. Tracking paths of website visitors, usually people confirm that the service they need is offered by the vet.
The most important feature of a services page on a veterinary website is a call to action (CTA). That's because when a client finds the service they're looking for, they can quickly click it and book their appointment with you.
Your services page should include:
A list of services you offer (include synonyms for clients that know services by different names, like dental cleaning and teeth cleaning)

Your point of difference (specialised equipment or staff)

Links to book appointments or to call your clinic
Online booking page for vets
This can be a bit of a tough one to build, but our website designers can help you put it together with custom forms and integrations. Your online bookings page for your vet should:
Include your open hours (possible booking times)

Be updated to fit public holidays and special events

Include contact information for those that prefer to call instead of booking online
Website Tips for Vets: How you can boost visitors and bookings
Reviews
A bit back on the page, we mentioned that most website visitors read vet services on websites. We should also mention that one of the most important or influential factors of a veterinary clinic's website is the quality of the reviews received.
If you've already read How to Get More Google Reviews For Your Clinic, you might have some great reviews on your Google Business Profile.
If your website has review integration, you can display these reviews front and centre on the reviews page of your website. It makes it easier for your clients to pick the right vet for their pet.
SEO
You're not new to the marketing game, you're reading marketing blogs. You've probably heard or read a fair bit about SEO already, and you may have even started implementing an SEO strategy for your vet.
That would be brilliant because SEO is one of the most important features of a website for veterinary clinics. It helps clients find you using location, keywords, and by searching the services you offer.
Some of the quickest and easiest ways to boost your veterinary clinic's SEO include:
Implementing a keyword strategy

Adding more (relevant) content to your website pages like listing more services you offer

Starting a veterinary blog

Connecting your website to social media

Adding links between site pages and optimising them
Curious to test if your website is up to scratch?
For a free consultation on your veterinary clinic's website contact us. We can run through your pages and provide insight into your digital marketing strategy. We also offer SEO audits to take a look into your website's technical errors and improvements and compare your stats to your competitors.
Contact us online to book a consultation or give us a call between 9 am to 5 pm on Monday to Friday (AEST) at (07) 5636 3766, and we'll give you a hand.
Author:
Vet Marketing Services
About: Vet Marketing Services launched with one goal in mind - to provide affordable yet highly effective digital marketing services to veterinary clinics. Our custom made websites and modern marketing strategies are designed with your needs and goals at the forefront, optimised for highlighting the small details that'll bring local paws through the door of your business.