5 Ways You Should Use Social Media to Build Client Relationships
Posted on 24 September 2020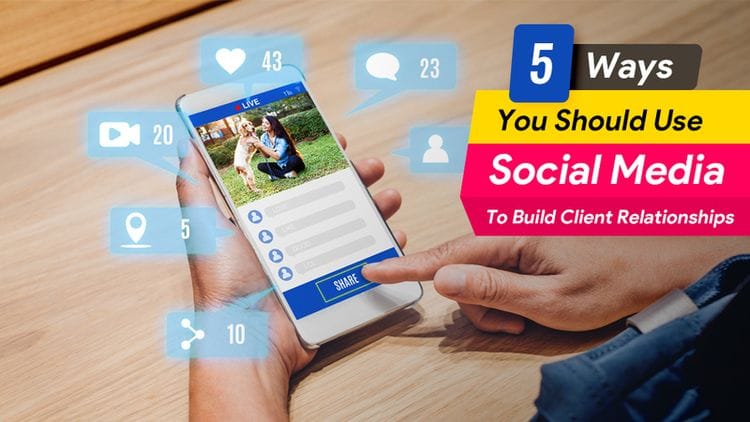 Did you know 91% of people believe that social media can power connections between brands and their consumers?
In today's digital age, it almost goes without saying how important social media is in growing your online presence.
Social media isn't just about posting content and clinic updates (though, this is important too!). Social media has all the tools to help you foster relationships with your followers and ultimately build better relationships with your clinic clients.
Here's how:
1. Listen more, respond quickly
It's easy to get lost amongst all the planning, scheduling and brainstorming that goes into posting your content. With all the time and energy it takes to organise your social media, it can be easy to forget it's just as important to listen to what your customers are saying on your channels.
One of the initial steps in building client relationships through social media is by delivering value to your followers. But first, you have to listen to what matters most to them. This can help you uncover ideas for content that will resonate with your followers.
Additionally, if your clients need help or need a question answered, common practice is to now reach out on social media first. What's even more insightful is that 52% of consumers who reached out to a business through social media say they expect to receive a response within 30 minutes!
To ensure you're delivering value, monitoring your social channels is equally as important as posting content and the most simple way to foster loyal relationships with your clients.
2. Reward your clients
Did you know 79% of customers say before they buy anything from a brand, they want to be shown that the business "understands and cares" about their customers?
While you shouldn't continually bribe your customers with freebies, it is worthwhile to let them know they're appreciated; it's a special way to thank them for choosing you.
A simple approach to this is through running a competition or a contest. This could be by submitting the funniest photos of their pets or having them vote on what they'd like to see out of the clinic on a simple Instagram poll. A photo contest also provides you with plenty of user generated content that you can use!
You can also do a giveaway of pet products, using this opportunity to expand your reach by having those entering tag a friend or share a post in order to submit their entry. So while you're rewarding your clients for their loyalty to you, there's also potential to grow your reach.
3. Give clients a voice
In general, people like to have a voice and with the explosion of social media over the last decade or so, this has become even more apparent. Your social media channels give clients a space to air their grievances and a space for you to be able to respond, providing solutions or alternatives.
It's not impossible that you'll receive negative feedback at some point, especially on social media. But the opportunity this presents isn't limited to you providing solutions to the unhappy client, but shows to other potential customers that you provide superior customer service and that you do care about the experiences of your clients.
4. Create connections
Forget about sales for a minute and think about how you can use social media to create connections with customers. Showcasing the clinic and the people who make it what it is (you and your team) is an effective way to do so (and fun, too!).
Giving your clients a behind-the-scenes look at your clinic can be an effective way to build stronger human connection. Transparency shows you're more than just a logo and a brand name - it humanises your clinic, improves levels of trust and guides clients through what they can expect when they visit. As a result, this can also help influence clients who are hesitant to follow through with the conversion.
This could be anything from a Q&A with a team member or veterinarian, a photo and profile of a nurse to introduce them or even just a simple behind-the-scenes of the exam room. Even if you're holding a staff event, pictures from this are a great way to put some humanisation on your pages.
If you dedicate time to fostering positive associations with clients, they'll think of you when the time comes to bring their pet to a vet.
5. Embrace user-generated content
User generated content is not to be feared, it's an opportunity with several benefits for your marketing. Not only is it a great way to develop extra content for your social pages, but it shows your clients that you do see and hear them when they're addressing you online.
For example: if a client puts up a photo of their pet on their social media, tagging your clinic in the post about their pet's recent trip to see you, this is a great opportunity to share this content to your page, too.
You'll save time trying to think of content and you'll have a happy client as well.
Additionally, you can encourage user generated content by asking clients to tag you in posts when they visit you or by running competitions, particularly in the holiday season.
Overall, with these steps you can utilise social media to help you foster valuable and precious relationships with your clients. If you're ready to start following these steps, but need some help getting your social channels going, we've covered previously how you can make a social media plan for your clinic.
Key Takeaways:
Consumers believe social media helps foster connections between brands and consumers.
Stop to listen to your clients - they're expecting you to respond quickly to any queries, concerns or questions they may have.
Reward your loyal clients and followers through giveaways and contests - there's potential for improving your social reach and receiving some user generated content, too.
Create more humanised connections by providing behind-the-scenes looks at your clinic - it reminds people they're engaging with humans and not robots.
Consumers also want to be shown brands care and understand them before they follow through with their business.
User generated content is a great way to gather more content for your pages and show your clients that you see them and are appreciative of their engagement with you.
Looking for ways you can build better client relationships with social media? We can help. Contact your vet marketing specialists today for more information or give us a call on (07) 5636 3766.
Author:
Vet Marketing Services
About: Vet Marketing Services launched with one goal in mind - to provide affordable yet highly effective digital marketing services to veterinary clinics. Our custom made websites and modern marketing strategies are designed with your needs and goals at the forefront, optimised for highlighting the small details that'll bring local paws through the door of your business.