Create an about page that generates leads
Posted on 27 August 2020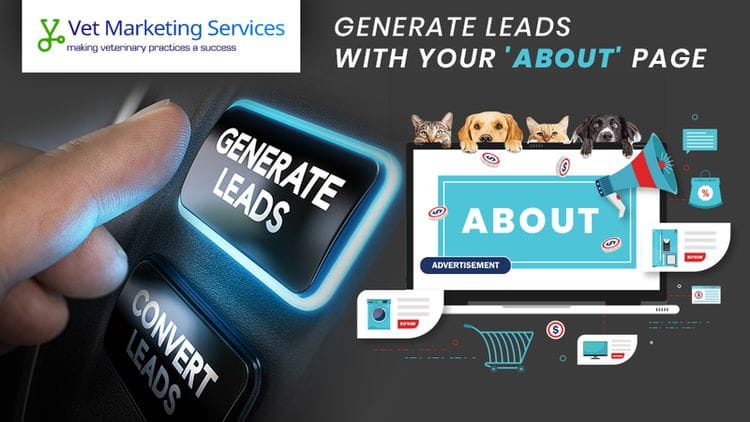 Website design
Most important pages for your veterinary website
Your website is kind of like a virtual clinic. While you can't give accurate pet check-ups virtually, you can provide helpful pet advice and link them to booking systems just like those in your reception.
But it's hard to show clients and their pets what you're really like without telling them about yourself.
And, the best way to do that, is with an About page.
About about pages
This is the first opportunity you have to introduce yourself to potential clients and it's often one of the first places visitors to your website will go. While it might seem as though it's too simple of a page to make an impact, "about" pages create the trust that helps generate leads.
Your about section plays a pivotal role in convincing the follow-through in the consumer decision process, whether that be to book an appointment or even just a newsletter sign up.
This page is a chance to say who you are, what you do, why you do it and how you do it. It seems pretty simple to answer the who, what, where's and why's - but when doing so, the content should be engaging and interesting as well.
Conveying your clinic's identity while being both fun and reliable can be challenging at times, but if you're ready to make your about page into a page that can't be overlooked, here are 5 tips for creating an about page that generates leads.
How to write an About pages for vets
1. Telling an informative and engaging story
This is the fun part where you get to implement story-telling in order to talk about your personal journey as well as the journey of the clinic.
It's not enough to just say "This is who I am and I'm passionate about what I do" - you have to really tune in to why you do what you do and be emotive in how you tell this information. Telling the why refers to both why you started the clinic and why you're the one the client should choose.
Think about what distinguishes you from your competition. If you were physically standing amongst your competitors, you'd want to be able to demonstrate that you have the most in-depth knowledge and refined skills; you want to show that you're the clinic they should trust with their pets.
There's nothing wrong with sharing some personal information about yourself such as what hobbies you enjoy outside of your work - this can help humanise you to potential customers. Showing your authentic self is a simple way to create engaging material. However, the "about page'' is also showing whether you can solve your client's problems so you have to find the right balance between how much information you share about yourself and ensuring this information answers the client's problems.
2. Optimised across devices
Gone are the days where searches took place solely on a desktop device - back in 2016 nearly 60% of searches were conducted from mobile alone and the number has only grown since then, which is why it's important that all your pages are optimised not just for desktop but across other devices, too.
If you need assistance ensuring your landing page is optimised for mobile, contact a specialist here.
3. Asking yourself, "what makes us great?"
Discuss any speciality services your clinic offers, the credentials of your team or any additional accreditations you have.
Are you accredited by the International Society of Feline Medicine as a cat-friendly clinic? Great! Make sure that's mentioned in your "About" page so that all owners know you're the place to bring their cats.
Any awards you've won or links to news articles about you can also be included in this space.
4. Testimonials
We've covered the importance of reviews before, but testimonials and reviews are solid proof you're the real deal. Testimonials are an effective trust symbol, solidifying with potential clients that you're legitimate, credible and worthy of their business.
5. Link to other pages on your site
Too often the about page becomes a dead-end - if someone has taken the time to get to know you on your about page, be sure to direct them to other pages that may be of relevance and importance to them.
These could be other landing pages or call-to-actions such as the following:
Meet the team - showcasing your team is a great way to show clients who they can expect to see when they come in. It also personifies your business and builds confidence in clients.
Contact us links.
Sign up for links to emails/newsletters or any special events upcoming.
Embed links to any special services you offer when they're mentioned.
Vet website design tips
With these tips, you can create an about page that stands out from the crowd. It's important to consider how every aspect of your website ties in to how you're seen by potential clients.
Show your local community you're not just another vet in the area - tell them why you're different and let it be known why they should choose you.
Keep boosting your website traffic with 5 requirements for any veterinary website, and further marketing tips to boost your appointment bookings.
Want to know more about writing a compelling about us page for your clinic? Contact your vet marketing specialists today for more information.
Author:
Vet Marketing Services
About: Vet Marketing Services launched with one goal in mind - to provide affordable yet highly effective digital marketing services to veterinary clinics. Our custom made websites and modern marketing strategies are designed with your needs and goals at the forefront, optimised for highlighting the small details that'll bring local paws through the door of your business.