How to Set Up a Google Business Profile for Your Vet
Posted on 15 July 2022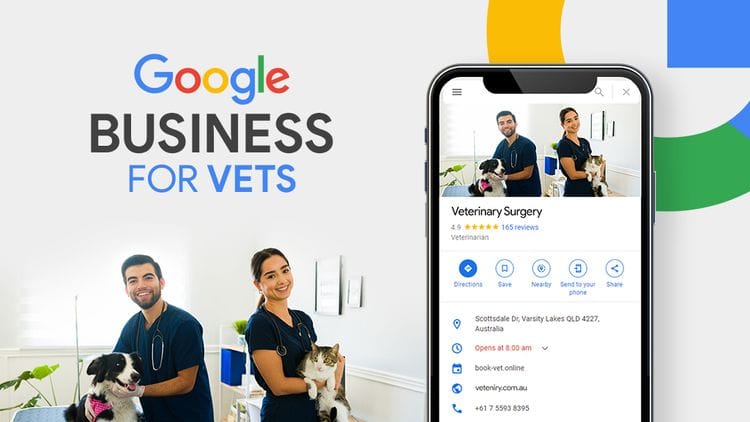 In this Google Business Profile set-up guide:
This short guide will help you set up your Google Business Profile for your veterinary clinic. This guide was completed in 2022 and is frequently updated with up-to-date instructions and other helpful information.
If you have any questions, don't hesitate to contact the team at Vet Marketing Services.
And, if you have any questions on how to use your Google Business Profile, you can check out some helpful resources from our blog where you will find a bunch of digital marketing tips and helpful formation for new and existing veterinary clinics.
Before you start, have the following ready:
You will need to have a Google account to set up a Google Business Profile. You can either use your clinic's existing email address (if it's a Google account) or sign up for a new one.
It's significantly easier to set your Google Business Profile up on your computer compared to a mobile device.
You will need the following information about your veterinary clinic to finish setting up your profile:
Your veterinary clinic's address and service area.

Your contact details (phone number, website, email address and clinic address)

Some pictures of your clinic and your logo
Steps to set up Google Business Profile for vets
1. Sign in to your Google Account and launch Business Profile

If your vet clinic doesn't use Google, you can create one using your business domain or with a new Google account and invite your regular email.
If the button isn't here, visit the Google Business Profile page directly.
2. Enter the name of your business and then click continue

Simply type in the name of your veterinary centre and select continue.
3. Select "Local store" and continue

Most veterinarians will be able to select "Local store". But, if you're offering a mobile veterinary service, you can alternatively click "service business".
4. Choose your business category and continue

Most vets can simply type "veterinarian" and choose next. But, if you're an animal specialist clinic or pharmacy, you can choose more appropriate options.
You can also add more options later, once the Google Business Profile set-up is complete.
5. Enter your clinic's address and find your veterinary centre

Select your country of operation from the drop-down menu

Enter your street address

Enter your suburb

Select your state of operation from the drop-down menu

Input your postal code
6. Enter your service area
Your service areas include those areas from which your clients would drive to your clinic.
You can choose up to 20 service areas but you should avoid choosing those that are more than two hours from your veterinary clinic (for best practices, stick within 30 minutes).
7. Enter your contact information
At this step, you will use the contact information you prepared earlier.
Add your clinic's phone number (one individual number for each clinic if you have multiple).

Add a link to your website.
8. Click "finish" and select a verification option
Here, you will finalise ownership of your veterinary centre and publish your Google Business Profile to the public.
Select "finish"

At the top, select "verify now"
What to do after setting up your vet's Google Business Profile
Now that you've set up your business profile or claimed ownership, you should:
Add at least 10 photos of the interior and exterior of your veterinary centre
Choose which images you'd like to make your cover (what will be visible when clients search for vets near them)
Prepare content to post regularly (pet health tips, service updates, links to your website)
Add your clinic's additional contact details and update your contact hours as they change
For more tips to manage your Google Business Profile or other social feeds (and SEO), check out the Vet Marketing Services Marketing Tips Blog.
Veterinary Google Business Profile FAQs
Do I need to use a Google profile?
Your Google Business Profile is crucial for your veterinary business and you shouldn't hesitate to create one and actively use it. Not only for SEO purposes, but your clients will find it more convenient to contact, get directions, and see your latest updates and open hours.
What do I do if someone has already verified my business?
During setup, if you get a notification saying that someone else has already verified the business, you can request ownership of the Business Profile and contact the Google support team to claim the page.
Can I invite multiple people to manage my vet's Google Business Profile?
You can invite several people to help you manage your Google Business Profile and we often encourage you to as it makes responding to reviews and posting content regularly much easier when the task is shared.
What should I do if I leave my veterinary business or if I'm taking one over?
If you're no longer the owner of your vet practice or you're taking ownership of it, you will need to transfer primary ownership of the profile.
Who can help me manage my Google Business Profile?
Vet Marketing Services optimises and manages Google Business Profiles for veterinary clinics across Australia to help with digital marketing and SEO. Linking them to their customised websites, our goal is to help potential clients find the best veterinary care.
Book a free 30-minute consultation with the Vet Marketing Services team to see how we can help you and your business succeed online with our custom veterinary websites and digital marketing.
Contact us online or call our Gold Coast office at (07) 5636 3766 between Monday to Friday 9 am to 5 pm.
Author:
Vet Marketing Services
About: Vet Marketing Services launched with one goal in mind - to provide affordable yet highly effective digital marketing services to veterinary clinics. Our custom made websites and modern marketing strategies are designed with your needs and goals at the forefront, optimised for highlighting the small details that'll bring local paws through the door of your business.