Simple Vet Marketing Ideas To Promote Your Clinic
Posted on 14 April 2022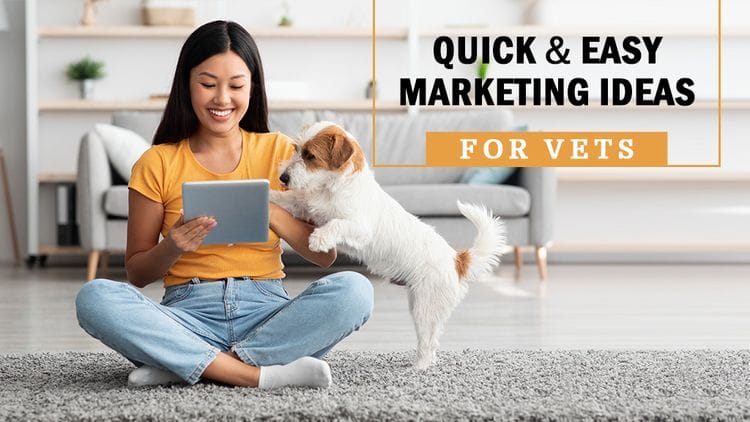 About marketing and promotion for vets
Marketing is a competitive industry for businesses and vets, but with the right promotional ideas for your veterinary clinic, you can get a leg up and generate more bookings and calls.
We've created this handy list of how-tos and guides to get you started on marketing your clinic, quick and easy.
Examples of traditional marketing promotions of vets
Traditional and digital marketing strategies are different, and there's a good chance that your clinic uses both already.
Some examples of traditional marketing methods include:
Creating merchandise for your vet like hats and pet clothes

Sponsor local pet events near you

Creating an in-clinic magazine for clients to read while they wait for appointments

Get in contact with local dog walkers and pet sitters and partner with them

Keep treats in your clinic (you can even get custom-created and printed pet treats)

Create business cards for your veterinary clinic

Run a giveaway or fun competition for your vet
But if digital marketing is more your speed, keep reading our examples of promotional ideas for your business.
More tips to promote your clinic
Start promoting and get your veterinary clinic more calls and patients using our list of easy marketing ideas for vets. You can quickly and easily boost your website visitors and in-clinic traffic with some clever marketing tips that you can start today:
Create a marketing strategy

Create a social media plan

Update your website (or create a new one)

Create a newsletter

Post regular content and gain more followers
1. Create a vet marketing strategy
Digital marketing plays an essential role in any business's success (including vets). The Vet Marketing Services digital marketing strategy we recommend to Australian clinics follows five simple steps:
Review your data

Build an objective

Segment your clients and target markets

Align your KPIs

Perform, evaluate and start again
2. Create a social media plan for your clinic
Under your digital marketing plan, one of your key mediums will be social media. It's a great tool for any Australian vet because you can link it to your website, booking system, or straight to your phone.
Here at Vet Marketing Services, we recommend following the next easy steps to building a veterinary social media plan for your veterinary clinic:
Figure out and set your goals and objectives

Find your target market

Decide which social media channels to use

Create your social media profile and fill it in

Build a brand personality for your social media channel

Create a posting schedule

Create fun, exciting content
3. Set up your Google Business Profile
Your Google Business Profile is what shows up when someone searches for your business or your services.
It affects your SEO and gives your clients a quick and easy shortcut to book appointments and contact you. Make sure to update your Google Business feed with content (you can reuse Facebook and Instagram posts) or post special offers for clients to see.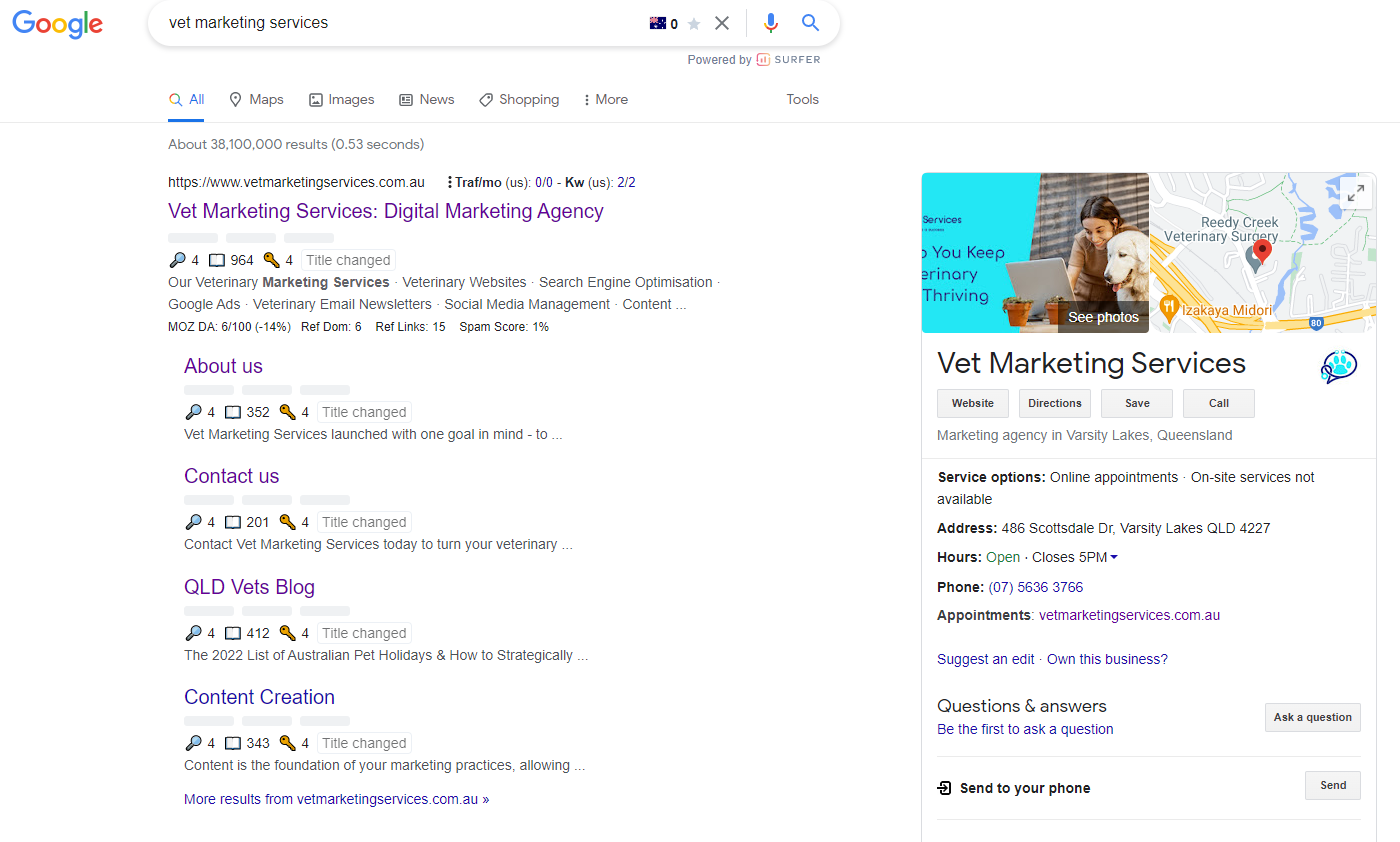 4. Update your logo
If your logo is a bit dated, consider the following elements to create a better logo for your vet:
Include animals you service (don't forget birds if you have avian patients)

Include your company name

Factor in features from your city or location

Use colours (or keep it minimal)

Don't add too many different shapes
Before going to a free logo generator or grabbing an image from Google, you can contact us for help from our design team. We make logos for Australian vets, and we've got ideas ready to help you.
5. Apply to local directories
Website directories work similarly to those big yellow phone books that would be delivered to front doors across Australia, but instead, it's online.
Local website directories increase your backlinks (awesome for SEO) and chances that clients can find you, and usually, it won't cost anything but a few minutes from your day.
Learn 21 Australian Directories to Boost Your Vet's SEO.
6. Create a custom veterinary website
Your website is your virtual veterinary clinic. And it's super important that your website has all the information your veterinary clients need and the tools they need to communicate with you. The best vet websites should have a:
Home page

About us page

List of services

Blogs or articles to help clients

Contact us page

Client review section

Booking Form or links to call and book

Easy navigation tool
Remember to maintain consistent branding in colours, voice and imagery.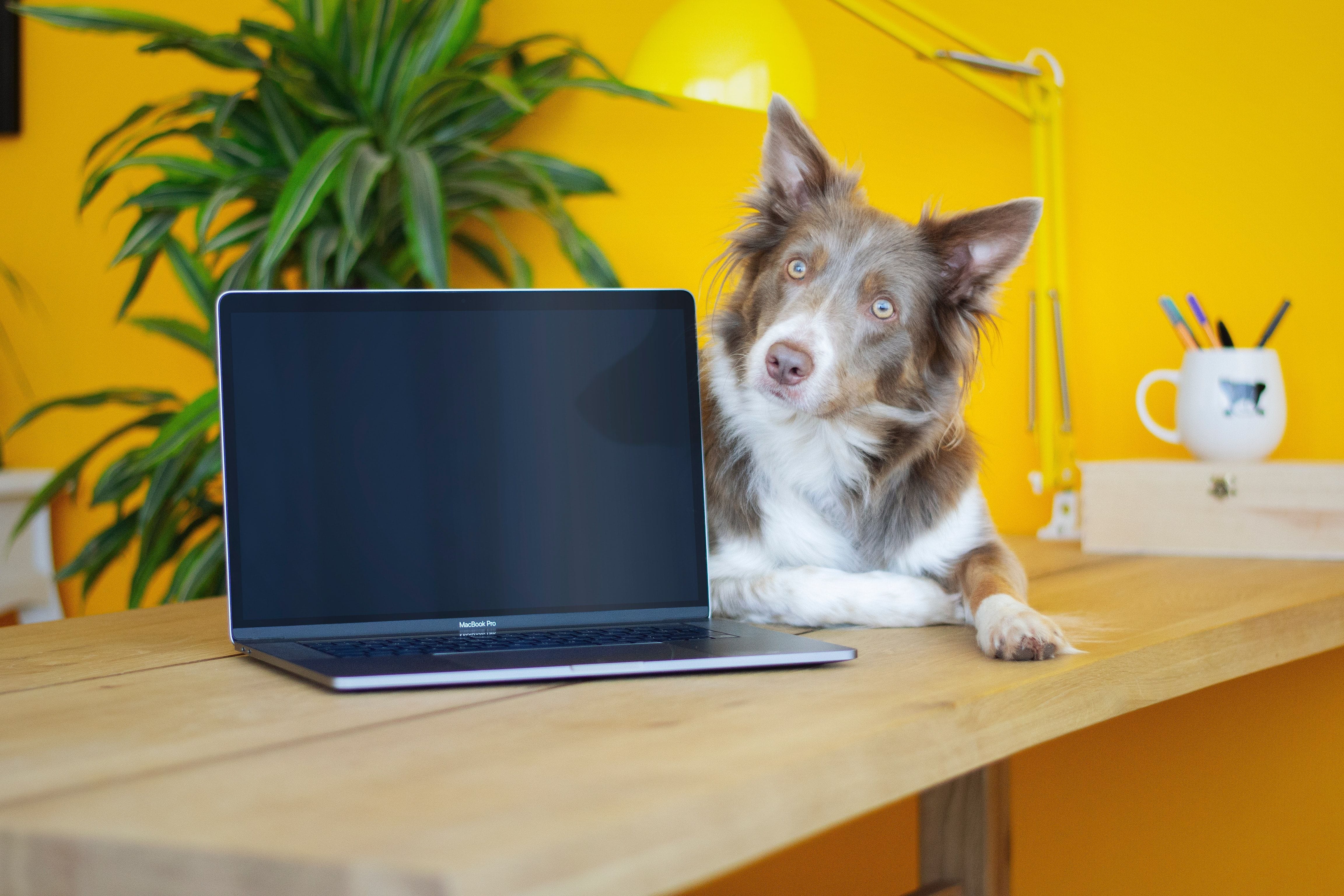 7. Create a newsletter
Newsletters are a great way to keep in touch with your clients and keep them up to date with your clinic's news. More than letting them know you have an upcoming discount, a vet newsletter should contain:
Pet tips

Links to your website

Your latest blog post or article and a link to it

Your contact details

Tips on finding your centre and making bookings

A link to book appointments
Newsletters may seem old-school, but there are plenty of reasons why your clinic needs one.
8. Create an email marketing campaign
Email marketing campaigns are separate from newsletters as they're focused on one-off events or offers. They're a quick way to boost website visitors and bookings and stay in touch with your clients. Some examples of vet email marketing campaigns include:
Upcoming events

One-time offers like discounts on services

A change in location or a news update on your clinic
9. Create a Facebook or Instagram page for your veterinary surgery or clinic
Sometimes we hear vets say that social media is becoming less popular, but this isn't true. There were close to half a billion new social media users just last year. If your Facebook or Instagram feed is slowing down, it might be time to reevaluate your strategy and content.
Vets can boost their following on Facebook and Instagram by:
Posting content regularly

Using the right hashtags

Replying to comments

Posting on national days and events relevant to vets

Asking clients for pictures of their pets to share
10. Post more content to social media
The pages that get the most comments are those that get the most views. And the ones that get the most views are the ones that post often. Not sure what content to post or need some inspiration and examples? Here are some ideas for vets to post to Facebook and Instagram:
Meet the team

Lost and found pets

Your latest blog

Community events and participation

Special offers

Puppies!

Pet health tips/Ask a vet

Staff appreciation (name them and praise them)
And if you're extra stuck, or simply don't like it, we offer full content creation and management service for vets' Facebook, Instagram, and Google Business Profile pages. Contact us to get a quote.
11. Use hashtags
Hashtags are one of the easiest ways to get more likes and followers on Facebook and Instagram for vets. But which hashtags should you use?
We've compiled a list of 30 of our favourite hashtags for vets that you can copy and paste into your posts and a guide on using them. Some of our favourites include:
#VetSurgery(location)

#VetNurse

#PetHealth

#Puppy

#Kitten
12. Use SEO for your vet
Search engine optimisation (SEO) for vets will help your website's success in search engines by changing, adding, and removing content as well as fixing the back end of your website and the coding. Of course, some of it is easier said than done.
So, here are the two ways you can take SEO into your own hands and get started building a basic SEO strategy as a vet:
13. Start a blog
The easiest way to add content to your website and boost your search engine rankings on your vet website is to start a blog.
Each month, roughly 409 million people view more than 20 billion pages. Your website could be among these. Blogs are a great way to answer questions online and increase traffic to your website. It's also a great way to create a personality for your company and build your credibility.
To get started, here are some blog ideas and articles for vets:
How to clean a pet's teeth
What dogs can and can't eat
How often you should feed your cat
How much water should pets drink?
Common parasites and ticks around your area
Dog breed descriptions
14. Fix basic back end features
The words and images play an important part in getting your vet to the front page of Google, and the errors and website score play an equally important role.
Some features that will affect your vet's website SEO include:
Website speed
Page errors
Links to and from your website
Alt text
Headings and title content
Did we lose you? Contact us for a quick SEO check-up for your vet's website.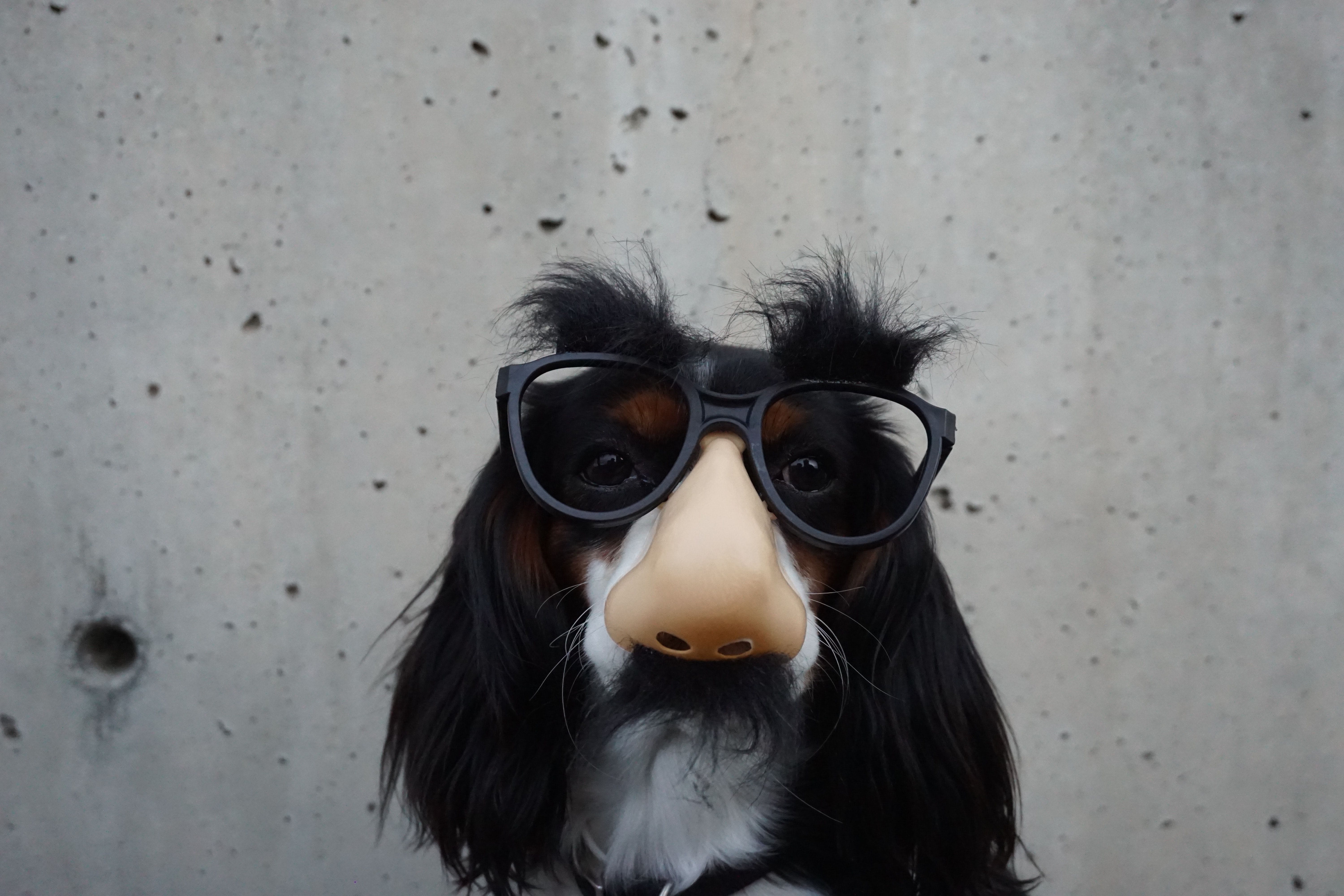 15. Invest in PPC ads on Google and social media for your vet
Get ready to have your mind blown because there are nearly seven billion Google searches each day. Each time someone searches for a service, ads usually appear first. That's probably why the average pay-per-click (PPC) return on investment is 200%
PPC isn't as easy as adding content to your website, but it isn't hard. All you need to do is set up a Google Ads account and figure out what works. You can pay as much as you like, whenever you want.
Contact us to help set up your Google Ads strategy today.
16. Take a look at Google Analytics
Not as beginner or DIY-friendly as other tips, Google Analytics is a great tool to track your website visitor actions. You can see:
Where they're from

Which pages they visit

Which links they click
You can also determine things like which pages are getting seen on Google and how often visitors come across your website.
Remember too, there are two existing versions of Google Analytics. Universal Analytics and Google Analytics 4. Both are great tools, but Universal Analytics will be shut down soon.
Contact us to learn a bit more.
17. Get more reviews for your vet
87% of consumers read online reviews. That means that they actually pay attention to what people think of your clinic. So, why not let them know just how great your clinic is?
Get more reviews for your vet clinic by making it easier for clients to do it. One of our favourite ways to get more reviews is to use QR code links to your review page.
How to create a QR code to link to your reviews in 3 steps (Google Chrome Method):
Using Google Chrome, open the page you want to link to

Click the search bar and look for the 'share' icon. Click it to find the drop-down menu.

Choose 'QR code' and it will automatically generate a QR code to share with your clients.
18. Respond to reviews for your vet clinic
Knowing how important reviews are, you should also know that it's equally important to reply. The most common negative reviews for vets are easy to respond to, and in doing so, you can turn a 1-star review into a positive marketing strategy.
Typically, the best steps for vets to respond to bad reviews are:
Acknowledge the client's concern or issue

Address it by explaining the situation and apologising

Offer incentives for them to return so you can correct the issue in future (this is another opportunity to advertise your services as clients are likely to read negative reviews, too)
But what if the problem wasn't your fault? You can still respond to negative feedback, but make sure that you highlight your side of the story without causing any further disputes.
19. Say thank you to your clients
Saying thank you is one of the easiest ways to be personable with clients and increase their chance of visiting your clinic again. There are a lot of other vets out there and they decided to choose you, it's nice to show appreciation.
Vets can thank their clients in a bundle of ways including:
A follow-up thank you email

Offering return-customer deals and incentives to continue seeing your veterinarians

Offering them chances to go into prize draws or similar
20. Optimise your content for local markets
Your vet's target market is local and you should optimise your advertising strategies and marketing efforts to them. For example, if your vet was in Melbourne, it wouldn't be worth publishing a social media post about pet events on the Gold Coast.
Instead, keep your ear to the ground for local pet events and create content relevant to it.
21. Contact a vet marketing agency
Saving the best for last, we're here for you.
Vet Marketing Services works with veterinary clinics across Australia to create vet marketing strategies. We're talented at creating:
Content (blogs, social media, and websites)

Websites

Vet newsletters

PPC plans

SEO strategies
Contact us for a free consultation for your veterinary clinic in which we will:
Look at your current digital marketing strategy

Check out your website for SEO faults, flaws, and suggestions

Give you a considerate quote specific to your vet
Call now at (07) 5636 3766 or leave your name and number, and we'll call you back when you're free.
Author:
Vet Marketing Services
About: Vet Marketing Services launched with one goal in mind - to provide affordable yet highly effective digital marketing services to veterinary clinics. Our custom made websites and modern marketing strategies are designed with your needs and goals at the forefront, optimised for highlighting the small details that'll bring local paws through the door of your business.